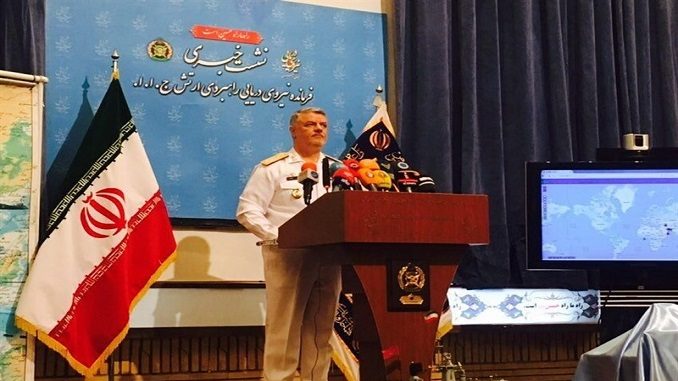 The head of Iran's Navy, Commander Rear Admiral Hossein Khanzadi, promised in his first speech since his appointment to "fly the Iranian flag in the Gulf of Mexico," encouraging Navy officers to consider an Iranian presence in the Atlantic Ocean a pivotal goal and soon-to-be routine occurrence.
The Iranian news agency Tasnim reported that Khanzadi asserted the Iranian Navy "will soon go to the Atlantic Ocean, visit some South American countries, and wave the Iranian flag in the Gulf of Mexico."
"Highlighting plans to develop military gear for operations in international waters, the commander said the Navy would unveil new vessels and submarines within the next year," it added.
Tasnim noted that Khanzadi placed emphasis on unveiling a variety of new technologies that would help Iran dominate the Atlantic Ocean as well as waters closer to the borders of Iran.
Khanzadi also pledged to introduce new vessels and submarines next year and announced other upcoming plans to bolster the country's naval power. He said the new Peykan-class missile-launching corvette Separ (shield) would join the country's Caspian Fleet next week. In addition to the planned reintroduction of refurbished and renovated vessels, a new navy airport was reportedly set to be under way in the southeastern port city of Jask, along the Makran coast.
In November 2016, an Iranian naval flotilla, comprising Bushehr logistic warship and Alvand destroyer, sailed around the African continent and entered the Atlantic Ocean. Iran maintains that its military presence in international waters is aimed at demonstrating the naval power and extending a message of peace and friendship. Iranian military experts and technicians have in recent years made great headways in manufacturing a broad range of indigenous equipment, making the armed forces self-sufficient in the arms sphere.
Algemeiner notes that, while Khanzadi's mission of placing Iranian assets in the Gulf of Mexico is a new ambition of the Navy's, to have an established presence in the West has always been Iran's goal. The outlet quotes Rear Adm. Habibollah Sayyari, who stepped down in early November as Khanzadi was appointed, saying at Khanzadi's inauguration that "sailing in open waters between Europe and Americas should be the Navy's goal, which will be realized in the near future."
The Islamic Iranian regime, which repeatedly accuses the United States of "terrorism" and support for groups like the Islamic State, has repeatedly insisted on a policy of attempting to contain America's influence abroad.
"The intentions of the U.S. are crystal clear to us. They are trying to weaken our defense resources," Brigadier General Masoud Jazayeri, the deputy chief of staff of the Iranian Armed Forces, told state-run Fars News in an interview last month.
Jazayeri insisted that America "created ISIS in order to cause a public phobia of Islam, unleashing it at regional countries as mercenaries in a proxy war" and urged Europe to help contain America's influence.
Supreme Leader Ayatollah Khamenei made similar remarks this week.
"Several consecutive plots by the U.S., Zionism and the reactionary [regimes] in the region were foiled by the authority of the Islamic Republic. One of them was the eradication of [ISIS]," he asserted.
Iran claims credit for the eradication of ISIS from Syria, despite largely attacking non-ISIS anti-Assad elements while U.S.-allied Syrian Kurdish militias did much of the work against the Islamic State.
To "contain" America, Iran has pursued closer relationships with its enemies in Latin America. Iran has established dozens of Islamic "cultural centers" throughout Latin America, which experts have warned serve as outposts for Tehran's terrorist proxy group Hezbollah. Of particular concern in the region are the "tri-border area," which contains parts of Paraguay, Argentina, Brazil, and Venezuela, whose socialist regime has long kept close ties to Iran.
The late president of Venezuela Hugo Chávez worked for years to develop closer ties to counterpart Mahmoud Ahmadinejad, a relationship that successor Nicolás Maduro has continued to cultivate. Venezuela's vice president, Tareck El Aissami, is from a Shi'ite Muslim family and has been sanctioned as a "drug kingpin" by the U.S. Treasury for his ties to, among other groups, drug cartels like the FARC and terrorist organizations like Hezbollah.
Iran's latest move toward the Western hemisphere isn't its first. In addition to receiving ongoing political support from friendly Latin American nations, some of which were alleged to host elements of the Iran-backed Lebanese Shiite Muslim movement Hezbollah, Iran said in 2014 it would send warships into the Gulf of Mexico to protest the U.S. Navy presence in the Persian Gulf, according to USA Today.
Prior to that, Iran offered to dispatch experts during the massive BP oil spill in 2010 to "curb the rig leakage in the Gulf of Mexico and prevent an ecological disaster in that part of the world," Reuters reported.