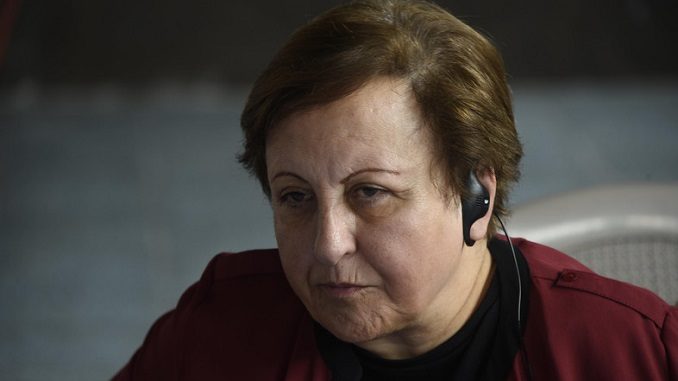 Iranian Nobel Peace laureate Shirin Ebadi urged the people of Iran to engage in civil disobedience and press on with nationwide protests that are posing the boldest challenge to its leaders since pro-reform unrest in 2009. Saudi-owned pan-Arab daily Asharq Al-Awsat quoted Iran's most famous human rights lawyer as saying Iranians should stay on the street and that the constitution gave them the right to hold demonstrations.
Following six days of protests that have rattled the clerical leadership and killed 21 people, the country's elite Revolutionary Guards on Wednesday deployed forces to quell unrest in three provinces.
London-based Ebadi, awarded the Nobel Peace Prize in 2003 and one of a number of exiled critics of Iran's leadership, called on Iranians to stop paying water, gas and electricity bills and taxes. She also urged them to withdraw their money from state banks to exert economic pressure on the government and so force it to stop resorting to violence and to meet their demands.
"If the government has not listened to you for 38 years, your role has come to ignore what the government says to you now," the London-based Asharq Al-Awsat quoted Ebadi as saying in an interview.
Speaking of the nature of protests and the way the authority dealt with protesters, Ebadi said that people took to the streets peacefully but were confronted by the police and security forces.
"The government says up to 700 were arrested but I am certain that the number of detainees and casualties is much more than that," she added.
The Nobel Peace laureate asked Iran's police and the IRGC to drop their weapons and join protesters.
The protests, which began over economic hardships suffered by the young and working class, have evolved into a rising against the powers and privileges of a remote elite, especially supreme leader Ayatollah Ali Khamenei. Iran staged pro-government rallies in several cities on Thursday, including the country's second-largest Mashhad.
State television showed thousands of marchers carrying posters of Ayatollah Khamenei and banners that read "Death to seditionists." The anti-government demonstrations, which seem to be spontaneous and without a clear leader, began in working-class neighborhoods and smaller cities but seem also to be gaining traction among the educated middle class and activists who took part in the 2009 protests.
The unrest has drawn sharply varied responses internationally, with Europeans expressing unease at the delighted reaction by U.S. and Israeli leaders to the display of opposition to Iran's clerical establishment.
In a sign of mounting unease among the country's leadership about the resilience of the protests, Revolutionary Guards commander Major General Mohammad Ali Jafari said on Wednesday he had sent forces to Hamadan, Isfahan and Lorestan provinces to tackle "the new sedition." Most of the casualties among protesters have occurred in those three regions.
The Revolutionary Guards, the sword and shield of Iran's Shi'ite theocracy, were instrumental in suppressing an uprising over alleged election fraud in 2009 in which dozens of mainly middle-class protesters were killed. Khamenei condemned that unrest as "sedition."
The leader of Lebanon's Iran-backed Hezbollah group, Sayyed Hassan Nasrallah, has played down the current wave of protests as economic discontent, saying they were not rooted in the political issues that spurred huge numbers to demonstrate in 2009 and would end soon. He described them as "nothing to worry about."