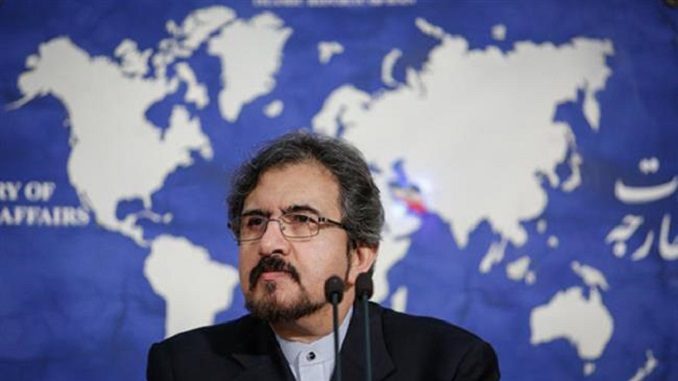 Iranian Foreign Ministry Spokesman Bahram Qassemi has rejected as "baseless" a recent U.S. report linking Tehran to human trafficking. In the report, he U.S. Department of State claims Iran, among others, is at the top of the human trafficking list based on their 4-Tier system, Press TV reports.
On Wednesday, Qassemi stressed that the report had been compiled with "invalid information and baseless accusations" against Iran and that the U.S. is using such pretexts to try to divert public opinion away from its own shortcomings in relation to dealing with human trafficking.
"This is why we totally reject the U.S.' move to compile false and untrue reports on human trafficking and its accusations against other independent countries," he added.
Qasemi, dismissed the U.S. allegations on the state run IRNA news agency saying, "the US government is lacking necessary authority and legitimacy to release such reports on other countries."
The TIP Report is the U.S. Government's primary diplomatic tool to engage foreign governments on human trafficking. It is also the world's most comprehensive resource of governmental anti-human trafficking efforts.
"Human trafficking is one of the most tragic human rights issues of our time. It splinters families, distorts global markets, undermines the rule of law, and spurs other transnational criminal activity. It threatens public safety and national security. But worst of all, the crime robs human beings of their freedom and their dignity. That's why we must pursue an end to the scourge of human trafficking," stated Rex Tillerson, U.S. Secretary of State.
Public information from the media, international organizations and NGOs indicated that the Iranian government did not take significant steps to address its extensive trafficking violations.
Information in the TIP report stated that the Iranian government provided financial support to militias fighting in Iraq which recruited and used child soldiers. Additionally, there were continued allegations that Iranian officials coerced Afghan men into combat roles within Syria.
The TIP report indicated that Iran made few efforts to protect trafficking victims; rather they "continued to punish victims for unlawful acts committed as a direct result of being subjected to human trafficking, such as adultery, prostitution and illegal immigration."
The report alleges that over the past five years, the country has been a source, transit and destination country for men, women and children subjected to sex trafficking and forced labor. Organized groups reportedly subject Iranian women, boys and girls to sex trafficking within Iran, Afghanistan, the Iraqi Kurdistan Region (IKR), Pakistan, the United Arab Emirates (UAE) and Europe.
Iranian girls between the ages of 13 and 17 are the most vulnerable to sex trafficking and targeted by traffickers for sale abroad. Younger girls may be forced into domestic service until their traffickers consider them old enough for sex labor.
There are also a high number of street children in Iran who are vulnerable to trafficking. Organized groups often kidnap or purchase Iranian and migrant children, especially Afghan refugee children, to work as beggars. Some of these children are as young as three-years-old, as referred to in the report.