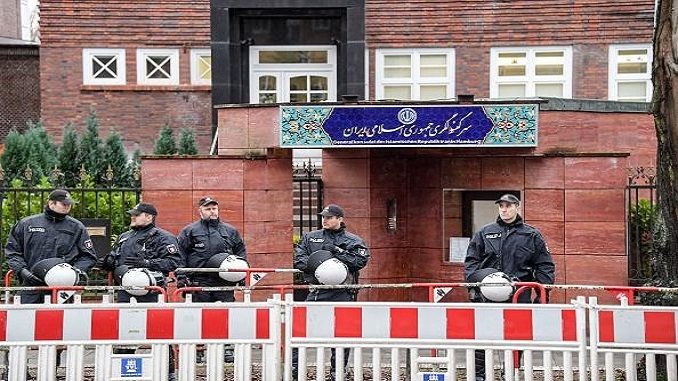 Iranian spies targeted Jewish kindergartens and the Israeli embassy in Germany, according to a journalist monitoring the German police's raid of apartments occupied by the suspects, Newsweek reports. German journalist Josef Hufelschulte told Israeli media on Wednesday that 10 people suspected of being spies for the Al-Quds Force, a unit of Iran's revolutionary guard, had been collecting information about members of the Jewish community in Germany.
The account comes just one day after German authorities conducted searches of apartments across the country in relation to the suspected spies. Search warrants named the spies as members of the Al-Quds Force, but investigators have yet to arrest anyone.
Some experts have cast doubt on whether the individuals are actually spies, saying that the Al-Quds Force has become a boogeyman for western analysts and security forces. But it's likely the case will damage the relationship between Germany and Iran's President Hassan Rouhani, who has been a strong advocate for Iran's nuclear deal with the West.
"It's very bad public relations for the Rouhani administration, which has been trying to strengthen its relationship with EU countries. Germany has been a solid supporter of the nuclear deal [with Iran]…and such news could cast a shadow on it at a very critical juncture for Iran. Rouhani controls Iranian foreign policy generally, but he has almost no control over the Revolutionary Guard," Omid Memarian, an Iran analyst based in the U.S., told Newsweek.
Others, however, argue that the presence of Iranian spies in Germany could be an attempt to pressure Berlin to stay in the nuclear deal, also known by its official name the Joint Comprehensive Plan of Action (JPCOA).
"It is a way to pressure Germany to continue its hardline stance against [President Donald] Trump's threats to tear up the JCPO.  Iran has relatively good relations with Germany, especially with trade, making the presence and activity of Iranians and Iranian-backed agents easier to manage for the Islamic Republic," Benjamin Radd, a Middle East expert at the University of California, Los Angeles, told Newsweek.
Iran's Revolutionary Guards have been known to target schools and other civilian institutions in the past, including Jewish communities in Europe and the West. Earlier this month, a Pakistani student was convicted of spying on a German politician for Iran.
"The most devastating attack was a bombing at a Jewish Community Center in Argentina in 1994, but more recently they also attacked a bus carrying Israeli citizens in Bulgaria in 2012.The threat against Germany should be taken extremely seriously," Chris Meserole, a Middle East expert at the Brookings Institution, told Newsweek.
The United States considers Al-Quds a terrorist organization, and Western intelligence officials have long accused them of carrying out assassinations abroad.  Germany's Jewish community says raids against suspected Iranian agents show Berlin needs to take a tougher line toward Tehran.
The Central Council of Jews said Wednesday that if the suspects are scouting Jewish and Israeli targets in Germany "this mustn't be left unpunished." Its president, Josef Schuster, said Germany shouldn't put economic ties with Iran before the need to protect its own citizens.
The Berlin office of the American Jewish Committee urged Germany's Foreign Ministry on Wednesday to expel Iran's ambassador because of his country's alleged spying on Israel's embassy and a Jewish kindergarten.
"We expect clear political steps. Diplomatic dialogue alone is not enough here. We need a clear public measure. The expulsion of the ambassador [Ali Majedi] would be an important first signal," said Deidre Berger, the director of the Berlin AJC office.
Israel's embassy told the mass-circulation Bild on Wednesday that "we again see how active the Iranian regime in Europe and Germany is. It maintains an infrastructure for terrorism." The embassy warned that one should not be fooled by the friendly face of the Iranian regime. "What is behind the laugh of [Iran's] President Rouhani and Foreign Minister Zarif? Hostile activities on the ground in democratic countries of Europe," said the Israeli Embassy.
The AJC Transatlantic Institute, American Jewish Committee's EU office in Brussels, called on Wednesday for the EU to respond to Iranian aggression by sanctioning the Revolutionary Guards and expelling Iran's ambassador in Germany. The institute added that "the European Parliament's Foreign Affairs Committee ought to disinvite Iranian lawmaker Alaeddin Boroujerdi, scheduled to speak at the EU legislature next week."
"Only last week, High Representative [of the European Union for Foreign Affairs and Security Policy] Federica Mogherini together with the foreign ministers of Germany, France and Britain lunched with Iranian Foreign Minister Javad Zarif while at the very same time his agents may have been plotting the murder of Jewish children and Israeli diplomats in Germany. This is nothing short of a hostile act against an EU member state by the world's foremost state-sponsor of terrorism. There can be no more business as usual for the EU with Iran," said Daniel Schwammenthal, director of the AJC Transatlantic Institute.