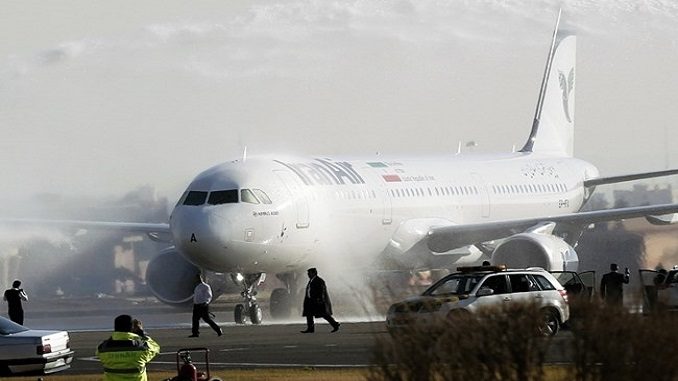 Iran warned Wednesday that its multi-billion dollar deals for Airbus planes had been thrown into doubt by U.S. President Donald Trump's attacks on the nuclear deal, The Daily Star reports.
"Considering Trump's stance on pulling out of the JCPOA [nuclear deal] we must make sure that the licenses will remain valid … regardless of any decision taken by the U.S. As long as uncertainties are not resolved, we will not provide down payments. Because of these negotiations, there can be delays in payments," deputy transport minister Asghar Fakhrieh Kashan told the reformist ILNA news agency.
A specific clause in the 2015 nuclear deal – which lifted some international sanctions in exchange for curbs to Iran's atomic program – opened the way for Iran to purchase planes from international suppliers.
Licenses were granted the following year by the U.S.1 Treasury's Office of Foreign Assets Control (OFAC) for Airbus to sell 100 planes to national carrier IranAir, which has also ordered 80 from Boeing. The European firm requires U.S. export licenses because some of its parts are manufactured there.
On Friday, Trump threatened to walk away from the nuclear deal unless progress was made on negotiations regarding Iran's missile program, and it is unclear if this would also lead to the OFAC licenses being revoked.
"OFAC's licenses are valid until December 2020 but these licenses have been issued under the JCPO.  In the most pessimistic case, if America wanted to pull out of the JCPOA, then it can be expected that the executive apparatus too will obey this decision," said Fakhrieh Kashan.
Asked to comment by AFP, Airbus said it "keeps on working with IranAir and the Iranian authorities on the execution of the purchase agreement in full compliance with the JCPOA and other applicable regulations."
Iran has been desperate to renew its aging fleet of planes but has faced financing difficulties as well as the uncertainty over sanctions. IranAir has so far received only three Airbus planes from its 100-plane order.
The sales chief of European planemaker Airbus predicted Iran would take delivery of dozens of European jets it has ordered under nuclear sanctions deal with major powers, but warned the transactions could take longer to complete than planned. U.S. President Donald Trump, who has strongly criticized the 2015 deal to lift a raft of sanctions in return for restrictions on Iran's nuclear activities, urged European allies on Friday to help fix "disastrous flaws" in the pact or face a U.S. exit.
European planemaker Airbus and its U.S. rival Boeing have agreed to sell a combined total of 180 jets to renew the aging fleet of state carrier IranAir but depend on U.S. support for the deal because of the number of U.S. parts in all their jets.
"I think those deals will get fulfilled, maybe not on the original schedule. We have to arrange financing; they have to understand about making pre-delivery payments," Airbus sales chief John Leahy told Reuters in an interview, referring to the company's agreement to sell 100 planes to IranAir.
So far IranAir has taken delivery of three Airbus jets and a handful of turboprops built by its Franco-Italian affiliate ATR. Bankers say further business with Iran has been held up by the reluctance of Western financial institutions to deal with Tehran because of concerns that the nuclear deal could unravel or that they could fall foul of ongoing U.S. financial controls.