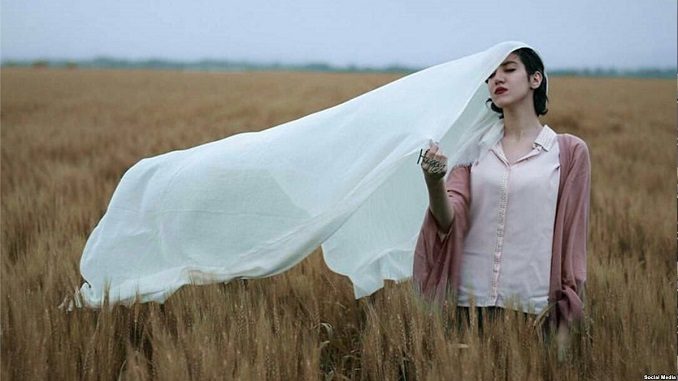 A movie about a young girl whose fantasy world helps her escape the hard realities of growing up in the countryside near Tehran in the aftermath of the 1979 Islamic Revolution is Iran's first-ever submission for the Academy Awards' foreign film directed by a woman, ABC News reports.
But not everyone is celebrating.The mixed reaction to Narges Abyar's film "Nafas," or "Breath," shows how art cuts across Iranian politics, both at home and abroad. First the selection of "Nafas" was criticized by some culture journalists on the grounds that it was a government-sponsored film. "Breath" was produced by Abyar's husband and producer/director Mohammad Hossein Ghasemi and Abouzar Pour Mohammadi in association with Noor Taban Company and the Farabi Cinema Foundation, which operates under the Ministry of Culture.
Hard-liners have criticized the movie, and it remains unclear whether the 47-year-old director and writer Abyar and her husband would even be able to get a visa to attend the Oscars in March under President Donald Trump's travel bans. Nominations for the Oscars will be announced in January. Yet she remains confident in the power of art to bridge cultural and political divides.
"Cinema, culture and art do not recognize any border, but in fact bring humanity closer together," she says.
"Breath" focuses on Bahar, a lively girl whose asthmatic father is bringing her and her siblings up on his own, with the help from the children's religious grandmother. The film shows the rapid changes that hit Iran after the Islamic Revolution, and later, as Scud missiles fall, Iraq's invasion of Iran and the start of the ruinous eight-year war. Parts of the film take place in Bahar's imagination as she tries to escape the hardship around her. Abyar acknowledges she made an anti-war film.
"The only thing that could destroy her fantasies and imagination was war. This film shows us the obscene face of war that we should avoid, this is what politicians won't tell you," Abyar said of Bahar's character.
Not surprisingly, the film's topics have proven controversial for Iran's hard-liners who describe the Iran-Iraq war in religious terms as the "Holy Defense" of the Shiite power from dictator Saddam Hussein's Sunni-dominated government.
"This movie is showing exactly what our enemies in the West want to see," said hard-line cleric Ahmad Alamolhoda, an ally of Supreme Leader Ayatollah Ali Khamenei.
General Mohammed Reza Naghdi, a senior commander of Iran's powerful paramilitary Revolutionary Guard, offered a similar view.
"The West is already spreading enough negative propaganda against us, so we shouldn't spend our taxes on such a film," Naghdi said, citing that the state-run Farabi Cinema Foundation submitted "Breath" for the Oscar.
Art can be a dangerous profession in Iran and filmmakers have fallen into trouble before, but that doesn't stop people, especially women, to use the film as a tool against suppressive laws. In Iran, the White Wednesdays movement has sparked women to flout regulations and stand up to police as well as strangers after defying laws by walking the streets without hijabs. In an attempt to capture some of the abuse they face for failing to adhere to Iran's strict religious rules, women filmed themselves without veils, and the encounters that followed.
The veil has been a mandatory dress requirement for women in Iran since the Islamic Revolution in 1979. Iranian women are allowed to show only their face, hands and feet in public, and are meant to wear only modest colors. However, women have pushed back the boundaries of the law over the years, with many wearing loose, brightly colored headscarves far back on their heads.
Also forbidden under the Islamic code are women touching, dancing or singing with men outside their families. Some of the clips have appeared on the Twitter account My Stealthy Freedom. One woman posts, "I have no fear of you, my camera is my weapon here!"
A touching moment was filmed by a father driving with his young daughter and talking about her future. He tells the camera:
"My inspiration for joining the campaign and to oppose compulsory hijab even before that, has been the future of my daughter. I want her to be able to freely make her decisions under the best of conditions. Iranian woman is a beautiful independent creature full of love and hope. you cannot under any circumstances, suppress them. Long live White Wednesdays," he says.