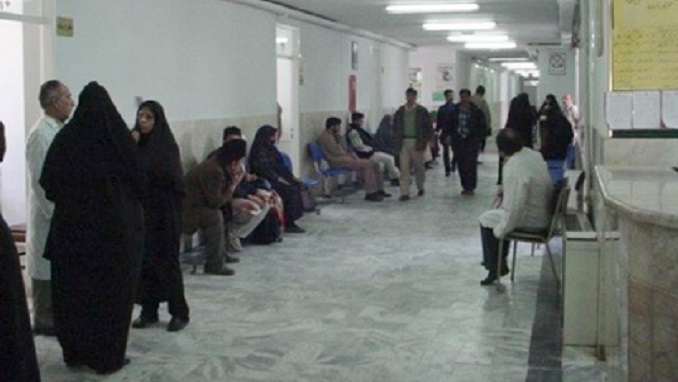 As part of each country's infrastructures, hospitals and quality of their services indicate in some ways how developed each country and its healthcare services are. In Iran, however, hospitals and the quality of their services are in a horrible state, a fact acknowledged by regime's own officials as well. A serious problem in this regard is related to hospital buildings.
While Iranian patients have to spend their times of illness in such places, the mullahs' regime is plundering country's wealth, pouring them right into the pockets of regime leaders and officials or spending them over regime's warmongering policies and exporting terrorism to regional countries.
Many of Iran's hospital buildings  have fallen into disrepair, so much so that in some cases there's a danger of them collapsing so that it would be quite unsafe to stay inside. The situation is so terrible that even the regime officials and media are forced to acknowledge parts of this reality.
"Many hospitals built over the past years lack even the basic structural design requirements. Many of them were not supposed to be hospitals, but are now used for presenting healthcare services. Well, it's no surprise to see them lacking even the least engineering standards for hospitals", Amir Saki underlines, who is a Construction Manager in Rouhani's Healthcare Ministry, in his interview with state TV last month.
Also in this regard, a member of regime Parliament's Social Committee Mohammad Vahdati pointed out in his interview with Parliament's news agency that many of country's healthcare centers and hospitals have reached the end of their useful life years ago, adding "unfortunately, most hospitals are dilapidated and their renovation is an absolute necessity. Besides, such healthcare centers lack the necessary safety measures."
Earlier, regime's Deputy Healthcare Minister Mohammad Aghajani had said "60 percent of our hospitals are in a state of disrepair, which should be regarded as a serious threat."
The critical conditions of Iran's dilapidated hospitals are despite the fact that Iran is a natural-disaster-prone country, with more than 90 percent of its population being subject to earthquake and widespread flooding.
Regime's Health Minister Seyed-Hassan Ghazizadeh-Hashemi recently acknowledged that the capital's hospitals are not resistant to earthquake. While confirming the minister's remarks, Homayoun Hashemi, member of Parliament's Healthcare Committee, pointed out that the studies show that many public hospitals date back to 1950's and 60's, adding "renovation of such hospitals must be put on the agenda as soon as possible. Besides, many of such hospitals need to be completely wrecked and rebuilt."
In addition to dilapidated hospitals, the conditions of hospital beds are also not appropriate, so that many of them are out of service.
"We are short of 46 thousand hospital beds", says Health Ministry's Construction Manager Amir Saki, adding "and of the available beds, 50 thousand are out of service, meaning we need somewhat between 90 to 100 thousand hospital beds so we can replace the outdated ones and develop our healthcare services.
The average age of a hospital bed in developed countries, European ones, for instance, is 7-10 years. In Iran however, with age of hospitals being 35 and higher, hospital beds are in such terrible conditions that even regime officials have been forced to acknowledge part of this mess. Currently, Iran is ranked among the lowest in the Middle East in terms of the number of hospital beds, with its situation being catastrophic even compared to such countries as Tajikistan and Kazakhstan.