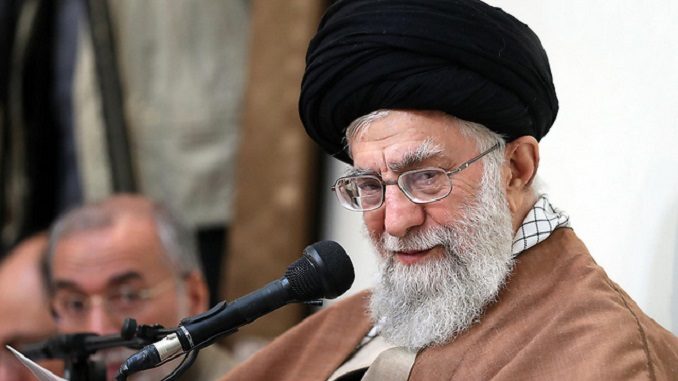 In light of reports of covert Saudi-Israeli relations, Saudi kingdom's arch-nemesis Iranian Ayatollah Khamenei accused Saudi Arabia for cooperation with U.S., Zionist regime to fight against Muslims, committing treason, The Washington Post reports.
Addressing parliamentary representatives from Islamic countries gathered in Tehran, Khamenei said the U.S. decision to recognize Jerusalem as Israel's capital was "a big mistake" and "doomed to failure".
U.S. President Donald Trump said on a visit to Jerusalem last year that shared concern about Iran was driving many Arab states closer to Israel. An Israeli cabinet minister said in November that Israel had covert contacts with Saudi Arabia amid common concerns over Iran. Some of the reports about covert relations between Saudi Arabia and Israel were disseminated by Iran itself, which claimed that the Israelis and the Saudis had teamed up to sabotage Iran's nuclear program.
"Regional governments that are cooperating with the United States and the Zionist regime to fight against Muslims are certainly committing treason. That is what Saudi Arabia is doing," Khamenei charged.
However, he also said Iran is ready to adopt a "brotherly attitude" toward countries that have been hostile toward it, and called for Muslim unity.
Iran, the leading Shi'ite Muslim power, and Sunni Muslim Saudi Arabia, a key U.S. ally, are rivals for influence in the Middle East where they support opposing sides in Yemen, Syria, Iraq and Lebanon.
Saudi Arabia has repeatedly called on Iran to stop its "meddling" in the affairs of the kingdom's neighbors.  Iran has fired back, accusing Saudi Arabia of trying to "drag the entire region into confrontation".
Khamenei's accusations come amid ongoing reports that Saudi Arabia and Israel are getting closer, perhaps due to their mutual concern over Iran. Saudi officials have repeatedly denied any ties with Israel, insisting that Israel must accept the so-called Saudi peace plan in order for the two countries to enjoy close ties.
One recent report claimed the Saudi government is weighing the possible normalization of relations with Israel ahead of a planned Middle East peace program by the Trump administration which aims to not only secure a final status agreement between Israel and the Palestinian Authority, but lead to recognition of the Jewish state by the larger Arab world.
Another report implied that Saudi King Salman plans to step down and announce his son as his successor, and that once the Crown Prince becomes king, he would enlist the help of the Israeli military to crush Hezbollah, Iran's proxy in Lebanon.
In the past year, foreign reports on covert Saudi relations with Israel have proliferated, alleging the two countries' converging interests in several areas, chiefly the threat posed to both by Iran. Yedioth Ahronoth reported Tuesday morning, for instance, that talks were being held to allow Air India flights between Israel and India to fly over Saudi airspace to shorten the flight's duration. If Saudi Arabia agrees to the move, it would likely be presented to the Indians as a gesture and not to the Israelis, since Jerusalem has no formal diplomatic ties with Riyadh.
Nevertheless, the change would symbolize another step in the direction of normalization between Israel and the Sunni kingdom, buttressing what are already reported to believe increasingly warm and cooperative, albeit it private, relations.
Iran does not recognize the State of Israel and its leaders, including Khamenei, repeatedly threaten Israel and call for its destruction. Iran and Saudi Arabia severed diplomatic ties in 2016 and support opposing sides in the wars in Syria and Yemen. Iran has seized on media reports that Saudi Arabia is seeking closer ties with Israel in order to join forces against it, something the Saudis deny.