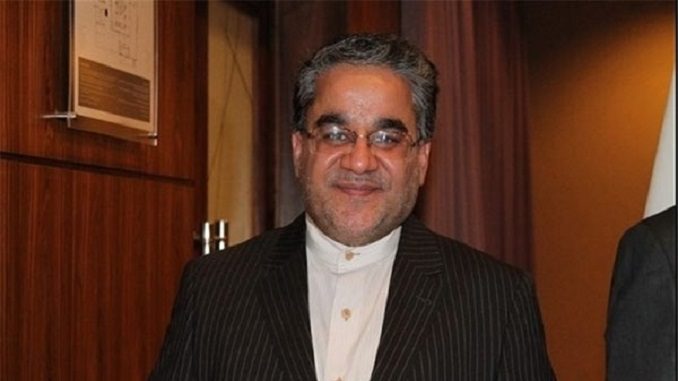 "Palestine represents a compass for regional issues, all of which should point toward one enemy, Israel," Iranian Ambassador to Jordan Mojtaba Ferdosipour said in an interview with Al-Monitor.
"Yet, this compass has lost its bearings in recent years, after Arab governments replaced Israel with Iran as their enemy," said Ferdosipour, who has chosen the map of Palestine as a centerpiece for his office, along with a Dome of the Rock miniature.
He also asserted that many Arab peoples do not agree with their leaders in terms of discarding this compass and normalizing relations with Israel.
"Iran does not want to take control of the Arab capitals," he said, dismissing the Nov. 19 Arab League foreign ministers meeting, which concluded that Iran's missiles are threatening Arab capitals.
The Arab League conclusion was in response to the Houthis launching ballistic missiles at Riyadh on Nov. 4. Ferdosipour denied allegations that Iran was supporting Houthis in Sanaa and supplying them with missiles, but on the other hand said Iran is proud of its support for Lebanese Hezbollah in confronting Israel.
Regarding Hezbollah, Ferdosipour believes Israel would benefit the most from disbanding this party.
"There is no doubt about it. We have heard Hezbollah Secretary-General Hassan Nasrallah say that Hezbollah did not send weapons to any Arab country except to the Palestinians in Gaza to support them in their wars against the Israelis. He also stressed that his movement has never supported the Yemenis, but participated in the fight against terrorism in Syria, which comes in the context of maintaining Lebanon's security and stability, since IS made its way to the Lebanese border. Everyone agrees on the need to fight terrorism and eliminate IS and Jabhat al-Nusra, since both groups are on the UN's blacklist," he said.
There are Jordanian and Arab concerns about a route connecting Tehran to Beirut through Iraq and Damascus, but is Iran really working on this route?
"We have put a lot of money toward fighting the common enemy of the Arab Islamic world, Israel. Iran's presence and its support for the resistance in the region aim to maintain Arab security, threatened by the common enemy. We are not afraid to say that we support Hezbollah toward the liberation of Palestine, especially since Hezbollah succeeded in liberating Lebanese territories in the south in 2000 with Iranian support. We are not ashamed of supporting Hezbollah in fighting Israel. Why does Iran need this route? To support Hezbollah in order to combat the Israeli occupation. We are proud of this because it does not target any Arab country or people, because we have always opposed the interference of foreign parties in Arab affairs," Ferdosipour pointed.