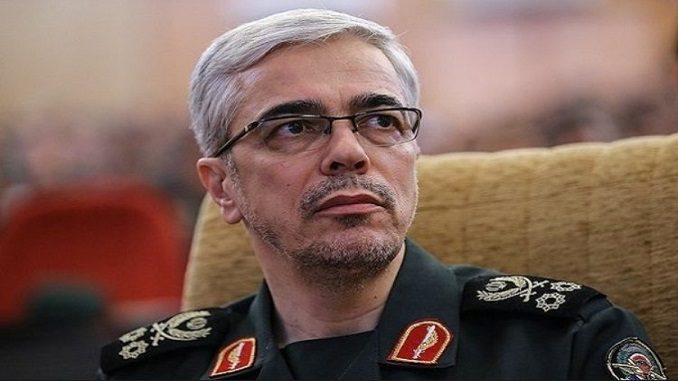 Iran's military chief, General Mohammad Baqeri, spoke about a plan to cooperate with Syria against the "Zionist enemy Israel" during a visit to Damascus on Wednesday, according to the Islamic Republic News Agency.
"The Islamic Republic will not accept Israeli violations of Syrian airspace. It is not acceptable for the Zionist regime to violate Syria anytime it wants," he reportedly said.
Discussing ways to deepen cooperation with Damascus, Baqueri pledged to fight Israel and Sunni insurgents.
"We are in Damascus to assert and coordinate and cooperate to confront our common enemies, the Zionists and terrorists. We drew up the broad lines for this cooperation," he said.
Baqueri's statement comes after Israel destroyed a Syrian anti-aircraft battery in a retaliatory strike on Monday, in the wake of a Syrian attempt to fire a surface-to-air missile at Israeli jets.
The Syrian Army warned Israel of "dangerous consequences" in the aftermath, and Syria's SANA state news agency reported that the Assad regime "warned of the dangerous repercussions of Israel's repeated aggression attempts, stressing Syria's determination to continue its war against the terrorist groups, Israel's arm in the region."
Baqeri arrived on Tuesday in Damascus with a high-ranking military delegation at the official invitation of Syria's Defense Minister, Major General Fahd Jassem al-Freij, according to the report.He is expected to meet Syrian President Bashar al-Assad during the visit.
Iranian media reports described the top general's visit as a sign of "Iran's determination" to fight and confront terrorism. Iran has been a major backer of Assad during the civil war in his country and has been providing him with both financial aid and military advisors against a range of opposing forces.
Near the start of the Syrian civil war, it was reported that then-Iranian President Mahmoud Ahmadinejad had personally sanctioned the dispatch of officers from the Iranian Revolutionary Guards to Syria to fight alongside Assad's troops.
A senior Iranian commander said several months ago that Iran will provide military advisors to Syria for as long as necessary and stressed that "the advisory help isn't only in the field of planning but also on techniques and tactics."
Iran has continuously rejected allegations that it has any fighters on the ground in Syria, claiming it only has "military advisors" in the war-torn country, though that began to change as Iranian casualties in Syria began to rise.
An Iranian official said late last year that more than 1,000 Iranians had been killed in the Syrian civil war, according to Reuters. These include a handful of senior commanders of the Revolutionary Guards, according to Iranian media reports.
In August, it was revealed that Iran has been building a Scud missile factory in Syria near the city of Baniyas, south of Latakia.