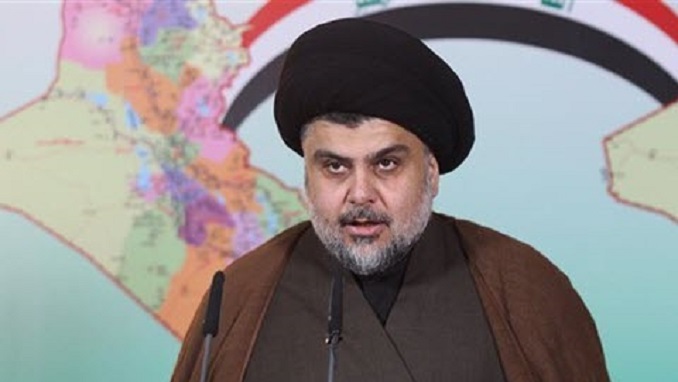 On Tuesday, September 5, 2017. Muqtada Sadr, leader of Sadri current in Iraq, refused to meet with Hashemi Shahroudi, the envoy of Ali Khamenei, Supreme Leader of the Iranian regime."The envoy of Khamenei carries a sectarian project that would cause loss and damage to Iraq," Baghdad Press reported quoting Amir al-Kanani, a leader of the Sadr's current, in an explanation of the rejection to meet with the envoy of Ali Khamenei to Iraq. "
Amir al-Kanani, a member of the Al-Ahrar faction, affiliated with Sadr's current in the parliament of Iraq, said in an interview: "Iran's interference in Iraqi political affairs is detrimental to Iraq's national interests, and therefore Muqtada al-Sadr refused to accept Khamenei's emissary."
He accused the Iranian regime of trying to foment internal conflicts and direct political currents to sectarian barricades and said: "Shahroudi's visit to Iraq is nothing but a supplementary project for a sectarian plan that Iran has provided six months ago. Iran proposed a "Shia House Unity" six months ago. Khamenei's emissary has not brought anything new to the Iraqi people."
Al-Kanani stated: "Iran has no projects in favor of Iraq. The Iranian regime is seeking to create sectarian barracks in Iraq, based on a Shia sectarian bastion against which the bastions of Kurdish and Sunni ethnicity are formed. The Iraqis are fed up with the phases of sectarian projects and the losses they have inflicted, and they are not prepared to accept a new project in this regard."
"Iran's interference is not in the interest of the Iraqi people who have decided to get rid of sectarian boundaries," said Sadri's current member. "The Iraqi parliamentary election is an internal affair of the Iraqi people and has nothing to do with Iran."
"If Iran is honest, it will propose plans for economic development and investment and the fight against terrorists in Iraq, not the sectarian project. So, it is unlikely that Muqtada Sadr will change his mind and accept Shahroudi," he added.
Before Muqtada al-Sadr, Ayatollah Sistani also refused to meet Ayatollah Shahroudi, the emissary of Khamenei.
Iraqi news agencies, including "Al-Ghad Press", quoting informed sources, reported that Sistani opposed the meeting with Mahmoud Hashemi Shahroudi, head of the Iran regime's Expediency Council, who is currently in Iraq.
The sources added: "Shahroudi called for a visit with Sistani during his trip to Najaf, but Sistani opposed and rejected this request."
Shahroudi is said to have traveled to Iraq sent by Khamenei to unite the Iraqi Shiite political currents that secure the interests of the Iranian regime.