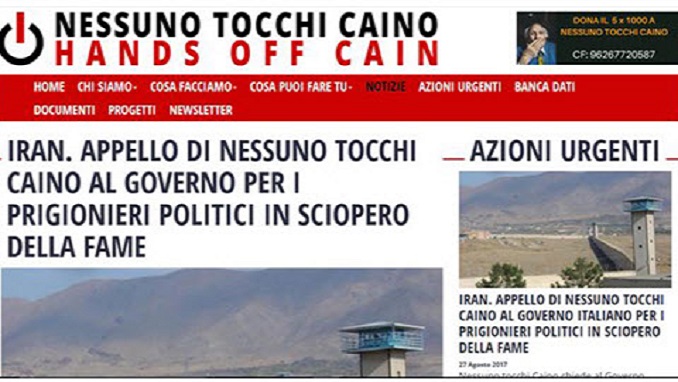 Hands off Cain joins the international campaign supporting demands of the political prisoners in Raja'i Shahr prison in Karaj. The prisoners began a hunger strike 27 days ago and call on the Italian government to act so that their human rights are respected.
The non-violent protest that started on July 30 by political prisoners in high-security Raja'i Shahr Prison is also being carried out by prisoners in other prisons. For example, prisoners in Ardebil announced on August 24 that they would participate in a week-long hunger strike.
On July 30, about 53 political prisoners were forcibly transferred to Section 10 of Raja'i Shahr Prison where they were beaten and unable to take personal belongings, including their medicine, clothing, notebooks, photos, and letters. They were transferred to an area where conditions are described as catastrophic.
With the windows of cells covered by metal sheets and sealed doors, there is limited air circulation. There is no access to drinking water and beds are insufficient for a number of people. The prisoners are deprived of private visits with family members and are not even allowed to telephone them. Closed-circuit cameras and eavesdropping devices are everywhere, even in showers and bathrooms.
Tehran's Attorney General Jafari-Dolatabadi, who is blacklisted by the European Union for serious human rights violations, has publicly threatened detainees by declaring that "their actions will fail" And that "the judicial system cannot be condemned by prisoners' actions such as the hunger strike."
There are at least 21 prisoners in Raja'i Shahr prison that are partaking in the hunger strike. Among them are prisoners of conscience, such as human rights activists, trade unionists, journalists, students, political dissidents, and members of the Baha'i community that is persecuted by the Iranian regime. With their nonviolent protest, they ask to be able to return to their old section in the prison and to have their property returned and compensation for what has been lost.
"We cannot remain indifferent to the inhuman and degrading conditions in which these people, who should not even be in jail, have had their crimes prosecuted. We cannot ignore the charges of indictment against them and how they are forced to live," said Sergio d'Elia, Secretary of Hands off Cain and Elisabetta Zamparutti, Treasurer.
"This is why we urgently need a visit by the United Nations Special Rapporteur on Human Rights in Iran in the jail of Raja'i Shahr, as well as an intervention by the Italian Government, both bilaterally and multilaterally, to ensure that the demands of the political prisoners of Raja'i Shahr prison are met and that their human rights are respected."