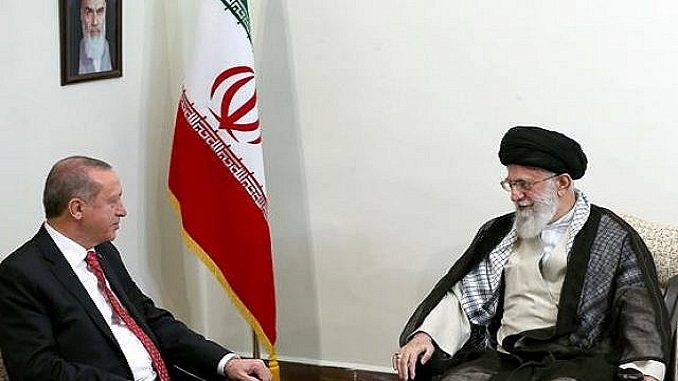 Iran's Supreme Leader Ayatollah Khamenei has described Kurdistan's independence referendum as an act of "treason" that must be confronted in a meeting with Turkish President Recep Tayyip Erdogan in Tehran on Wednesday, Rudaw reports.
"Iran and Turkey should take every possible step in confronting this (referendum); and the Iraqi government must also seriously decide on it and act," he said, according to his website.
He pointed that the United States and Israel were some of the only countries benefiting from the recent referendum in Iraq's Kurdistan region and that Washington and other Western powers were seeking to "create a new Israel" in the Middle East.
"America and Israel benefit from the vote… The United States and foreign powers are untrustworthy and seek to create a new Israel in the region," Khamenei told Erdogan, according to the state-run Press TV network.
Earlier this week, Erdogan claimed that the Israeli Mossad had a hand in the Kurdish referendum, a claim Israel has rejected.
"This shows one thing, that this administration (in northern Iraq) has a history with Mossad, they are hand-in-hand together," Erdogan said in Erzurum, in eastern Turkey.
Erdogan is in Iran discussing Kurdistan's referendum as well as bilateral relations. They have agreed to increase economic cooperation as well as joining forces to address major issues in the Islamic world.
Kurdistan Region's neighbours, Iran and Turkey, took a unified stance against the Region's independence aspirations, vowing to isolate the regional government if they attempt to change borders. Iranian President Hassan Rouhani also hosted his Turkish counterpart Erdogan in Tehran on Wednesday.
"We will not accept changing borders in the region," Rouhani said at a joint news conference. Erdogan has hinted at the possibility of sanctions against the Kurdistan Region in the past.
"From this moment onward, more decisive steps will be taken," he said, standing next to Rouhani. He did not provide further details.