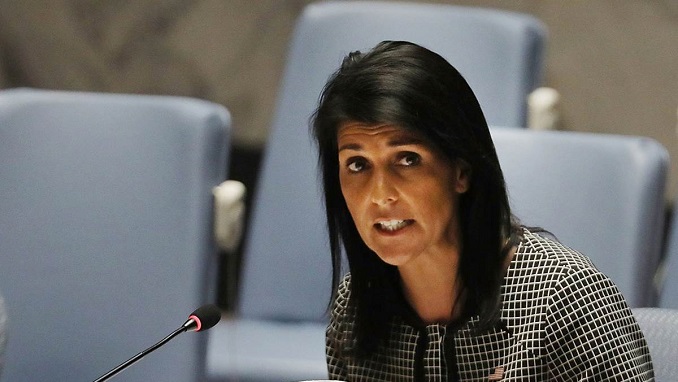 Donald Trump's U.N. ambassador says the president "has grounds" to declare that Iran is not complying with the 2015 nuclear deal, stoking doubts about whether Trump intends to keep an international agreement and core legacy achievement for former President Barack Obama, Politico reports.
Nikki Haley, speaking Tuesday in Washington, said she did not know what Trump plans to do next month when he is due to certify to Congress whether Tehran is complying with the agreement. But she appeared to lay the groundwork for Trump to declare that Iran is in violation of the deal.
Haley stressed that such "de-certification" does not invalidate the nuclear deal or constitute a U.S. withdrawal. But it would likely enrage Iran and rattle U.S. allies in Europe and beyond who fear that Trump wants to unravel the agreement without actually declaring that the U.S. will no longer honor it.
"I'm not making the case for de-certifying," Haley told an audience at the conservative American Enterprise Institute. "What I am saying is should [Trump] decide to de-certify he has grounds to stand on."
In particular, Haley said, those grounds include findings that Iran twice exceeded the amount of heavy water (a form of water in nuclear reactors) it was allowed to have. The Obama administration brushed off those incidents as minor technical infractions that were quickly resolved. Haley also blasted Iran's refusal to allow international inspectors to check all of its military facilities. She also alleged Iran has "hundreds of undeclared sites that have a suspicious activity that [inspectors] haven't looked at."
The nuclear agreement—struck in July 2015 between the Obama administration, Iran, China, Russia, France, Germany and the United Kingdom—requires that Iran severely curb its nuclear activities in return for global sanctions relief. Inspectors with the International Atomic Energy Agency have repeatedly declared that Iran is upholding its end of the bargain.
However, there is clear evidence that Iran's regime is violating this accord, by its continuous test-launching of long-range rockets and pursuing of nuclear programs, as well as the transfer of soldiers to fight in wars via Iran's private airlines.