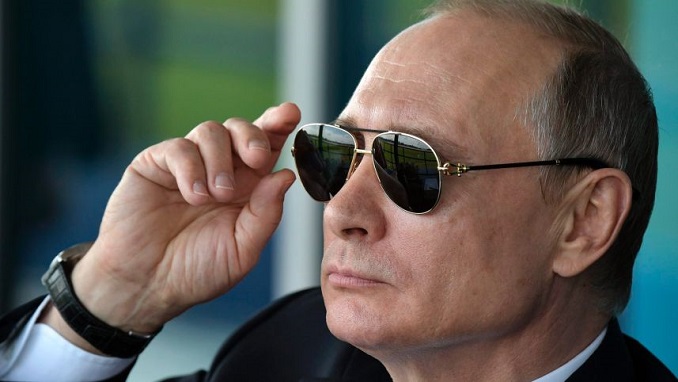 Russian President Vladimir Putin is working on what sounds to Israelis like science fiction but in Moscow makes perfect sense: a formula whereby no foreign country will be allowed to turn Syria into a platform for attacking neighboring states – deal on the power structure in Syria that both Israel and Iran can live with, Haaretz reports.
Putin gained control over the region after Russian aircrafts began landing in Khmeimim air base. The Obama administration was unwilling to play a major role in Syria and the Trump administration has yet to formulate a clear regional policy – and Russia has filled the vacuum.
However, Israeli Prime Minister Benjamin Netanyahu realized the pivotal role of Putin in Syria. Netanyahu met with Putin in Moscow in September 2015. After the meeting, a "deconfliction mechanism" was established between the Israeli and Russian air forces, including a hotline installed between the Russian operations center and IDF headquarters in Tel Aviv. At the same time, Moscow has worked together with Iran and its proxy, Hezbollah, and they have supplied thousands of fighters on the ground for Assad's regime.
"Putin doesn't want to lose Iran or Israel. There is mutual respect between him and Netanyahu, and Russia has a special attitude toward Israel's military activity in Syria and has warned Assad and Hezbollah not to retaliate," said Andrey Kortunov, director general of the Russian International Affairs Council.
Putin recently brought Iran and Turkey together in the Syrian ceasefire talks in Astana, and now believes he can broker an agreement between Israel and Iran. Yet, there are some discordant notes in the Russian-Iranian relationship. Putin doesn't want to be seen by the Sunni majority in the Middle East – as well as Russia's millions of Sunni Muslim citizens – as enabling the Iranians to build a "Shia crescent" across the region. Moscow has refused Iranian demands to share the naval port of Tartus, currently being used by Russia.
According to well-placed sources in Moscow, Putin is planning to propose a plan to Netanyahu according to which no foreign country will be allowed to turn Syria into a platform for attacking neighboring states. This won't go as far as Netanyahu's insistence that Iran be prevented from establishing a permanent presence in Syria. If enforced, though, it would prevent them from establishing air and missile bases there.