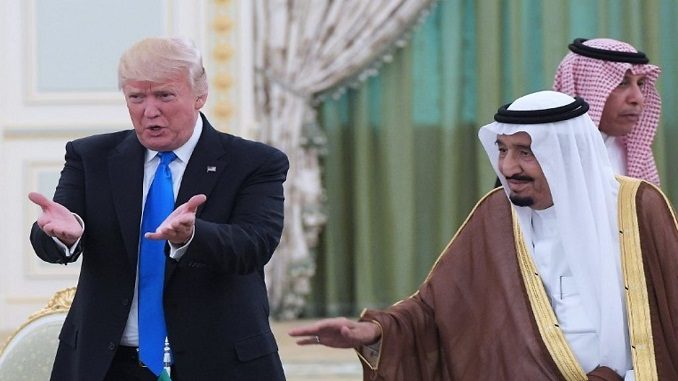 Saudi Arabia's king praised U.S. President Donald Trump for his "visionary" new strategy vis-a-vis Iran during a phone call between the two leaders on Saturday, the White House said Sunday, The Hill reports.
"King Salman praised President Trump for his visionary new Iran strategy and pledged to support American leadership. President Trump thanked King Salman for Saudi Arabia's support and emphasized the importance of the Gulf Cooperation Council in countering Iran's destabilizing activities in Syria, Yemen, Iraq, and elsewhere in the region," the White House said in a readout of the conversation.
Following the release of the administration's new strategy, the Royal Embassy of Saudi Arabia released a statement, saying that the kingdom commends Trump's clear-eyed vision, and his commitment to working with the U.S. allies in the region to confront common threats, especially those posed by Iran's aggressive policies and behavior in the region.
Although Saudi Arabia had previously announced its support for the agreement between Iran and the P5+1 based on the its commitment to achieving peace and security in the region and the world, hoping that the agreement would prevent Iran from obtaining such arms in any way, its stance changed.
"Iran had misused the economic benefits it gained from the lifting of sanctions, and used them to continue its destabilizing behavior in the region, especially through its development of ballistic missiles, and its support for terrorism in the region, including Hezbollah and the Houthi militia. Iran went beyond that in a blatant violation of international resolutions, as it transferred its capabilities and expertise to its proxies, including the Houthi militias, who used these missiles to target the Kingdom," the statement said.
The kingdom therefore voiced its ongoing commitment to work with partners in the U.S. and international community to achieve the objectives declared by Trump. It underlined the need to address threats posed by Tehran's policies to international peace and security from a wider perspective beyond its nuclear program to include all of its aggressive activities, in order to cut off all avenues for it to acquire weapons of mass destruction.
"For too long, the Iranian regime has spread destruction and chaos throughout the region and beyond. The nuclear deal offered Iran an opportunity to engage responsibly with the international community. Instead, it only emboldened Iran to intensify its provocative and destabilizing behavior," the Saudi Foreign Ministry said in a statement.