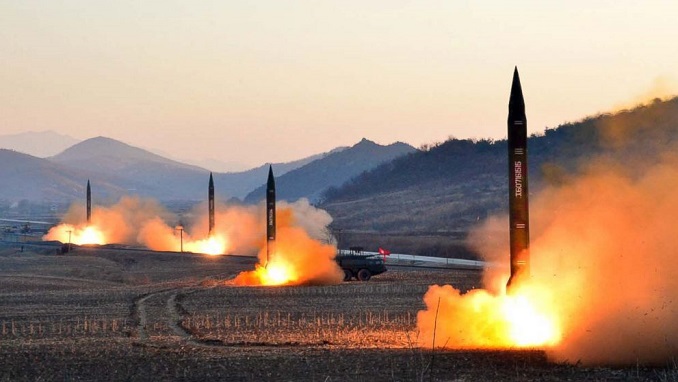 Iran has changed its policy from secretly advancing its military programs to publicly announcing progress on that front. This week, Iran's state-owned newspapers praised its "remarkable" military advancements. Keyhan's front page boasted about the country's unveiling of an unmanned aerial vehicle (UAV) base, saying it is a warning to the "enemies." Quoting air defense chief Farzad Esmaili, Press TV reported that "Iran's UAV program has expanded in recent years with more than a dozen models," with "functions ranging from surveillance to intelligence gathering, carrying bombs and Kamikaze operations." This is stated in a column by Dr. Majid Rafizadeh an opinion contributor to the Arab News website.
Tehran also revealed a new surface-to-air missile, Talash-3, and two radar systems. This is contrary to the UN Security Council resolution 2231, which endorsed the nuclear accord, calling on Iran not to "undertake any activity related to ballistic missiles designed to be capable of delivering nuclear weapons, including launches using such ballistic missile technology."
Tehran is sending a message that if any Western nation, regional power or non-state actor stands in the way of its revolutionary principles and foreign policy objectives, there will be serious military repercussions.
This is not the language of diplomacy and dialogue that the government claims to champion. It is the language of hard power and showing off, which is typical for the regime. This language leads to further regional destabilization, insecurity and tensions.
The government is appeasing the hardcore base of Supreme Leader Ali Khamenei and Iran's Revolutionary Guard Corps (IRGC). By showing off the country's military power, Tehran is also trying to foment nationalist sentiment, specifically sections of society that are disaffected and disenchanted with the government.
Furthermore, by exploiting and exaggerating the notion that Iran has enemies, the ruling establishment is justifying its military budget increase. Recently, despite high unemployment and poverty, Parliament overwhelmingly voted in favor of increasing the military budget by more than $500 million.
The bill focuses on spending in two particular categories: Advancing ballistic missile capabilities, and investing in other programs that play a role in conducting foreign operations. One of the major organizations involved in such operations is the Quds Force, the elite branch of the IRGC, which is led by Qasem Soleimani.
The tactical shift occurred after the nuclear deal was reached. From Tehran's perspective, the West has lost any significant leverage because the four rounds of UN economic sanctions have been lifted. Every round required years of hard work, negotiations, and the consent of the Security Council's five permanent members. As such, Tehran is confident that reinstating sanctions would be almost impossible.
Indeed, it would be extremely difficult for the US to get the approval of Russia, China, or even the UK and France, to pass a new round of international sanctions. With that in mind, Tehran has shown its true face. From its perspective, the geopolitical landscapes of the region and the world are changing in its favor.
Russia, Turkey and Qatar are leaning further toward Iran. Moscow has intensified its intervention in Syria. Regional conflicts have helped Tehran create proxies and Shiite militias in several Arab countries. Europe appears more focused on striking business deals with Iran than on its militaristic policies and human rights violations. All these factors have empowered and emboldened Tehran.