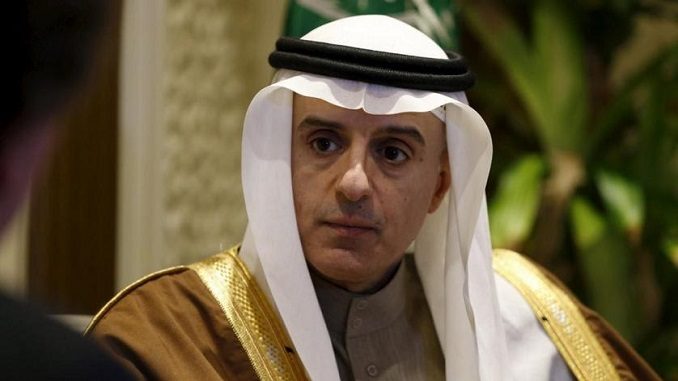 Saudi Foreign Minister Adel al-Jubeir reiterated on Sunday accusations that Iran was destabilizing the Middle East, vowing to continue to pressure Tehran to change its behavior, Asharq al-Awsat reports.
"In order to ensure than Iran comports itself with international law, we must have firmer positions with regards to ballistic missiles and with regards to Iran's support for terrorism. Iran must be held accountable," al-Jubeir said told Reuters in an interview during the annual Munich Security Conference.
Jubeir blamed the Iranian revolution for spawning "terrorist groups like 'Hezbollah'" in Lebanon. He also charged Tehran with providing safe haven to slain al-Qaeda chief Osama bin Laden.
"In contrast to Iran's policy, Saudi Arabia has never carried out an attack" against another country, remarked Jubeir.
The world must "extract a price" from Iran for its state-sponsored efforts to export the 1979 revolution, Saudi Arabia's foreign minister told a high-profile conference on Sunday. This encompasses the spread of ballistic missiles, support for terrorists and a destructive impact on regional states through proxy forces.
Jubeir welcomed a draft United Nations resolution offered by Britain, the United States and France that would condemn Iran for failing to stop its ballistic missiles from falling into the hands of Yemen's Houthi militias. He told Reuters the measure, if passed, would help hold Iran accountable for what he described as its "exports of ballistic missiles" to the Iran-backed Houthis, and "radical and aggressive" behavior in the region, including support for terrorist groups.
"We must have firmer positions with regards to ballistic missiles and with regards to Iran's support for terrorism. If Iran wants people to stop criticising it has to change its behaviour. It should stop sending weapons to the Houthis, sending terrorists to Syria. The world has to extract a price from Iran for its aggressive behavior. There has to be a fundamental change in the Iranian regime for Iran to be treated as a normal country," he said.
He said Iranian missiles were regularly used by Houthis "to target civilians in Yemen as well as inside Saudi Arabia." It also provided a haven for global terror groups.
"Didn't Iran train and manage the terrorist factions that bombed the Saudi Khobar Towers?"
In fact, under threat from a series of Iranian-backed groups in the Middle East, countries demanded that Iran repudiated that part of its constitution that mandated the export of the 1979 revolution beyond its borders, according to Saudi Arabia.
"The Khomeini revolution unleashed sectarianism in our region," Al Jubeir said. "Is Iran prepared to amend its constitution and not to export the revolution. We cannot afford to put up with the Khomeini revolution any longer."
The most dangerous nation for cyber threats is Iran, Saudi Foreign Minister Adel Al-Jubeir told CNBC on Sunday, saying that the country had been attacked "repeatedly" by its adversary. Asked who he believed was the greatest single threat in terms of cyber attacks, Al-Jubeir was unequivocal.
"The most dangerous nation behind cyber attacks? Iran.  Iran is the only country that has attacked us repeatedly and tried to attack us repeatedly. In fact, they tried to do it on a virtually weekly basis," Al-Jubeir said.
Al-Jubeir said his country was taking steps to combat the perceived cyber threat from Iran.
"We are taking all the steps necessary to provide defenses for our data banks and for our internet and so forth. And we are also taking steps necessary to train our own people in order to be able to engage in offensive operations to make it hopefully impossible for people to penetrate those systems," he said.
Though the minister did not offer specific examples for his claim, cyber experts have pointed to what they see as Iran's increasingly sophisticated cyber-espionage capabilities. Hackers believed to be linked to the Iranian government attacked Saudi state oil giant Aramco in 2012, successfully wiping 30,000 computers and paralyzing operations. In addition, security experts have traced a number of subsequent attacks back to Iran, including hacks on Saudi and Western aerospace and petrochemical companies.
Jubeir also called for changes to two aspects of the 2015 nuclear accord with Iran – cancellation of a so-called sunset provision, and expanded inspections to include non-declared and military sites.  The draft UN resolution, which needs to be adopted by February 26, is likely to face resistance from Russia. A resolution needs nine votes in favor and no vetoes by Russia, China, the United States, France or Britain to pass. Jubeir said he hoped Russia could be persuaded to support the measure.
Britain drafted the resolution in consultation with Washington and Paris before submitting it to the Security Council Friday. The motion comes after Britain proposed a UN Security Council praise of Riyadh and the United Arab Emirates for allegedly pledging funds to ease the humanitarian crisis of their own making in Yemen. The proposal coincided with fresh criticisms of the Saudi-led military campaign against Yemen by UN experts and rights groups. Saudi Arabia has imposed an all-out blockade on Yemen's ports, depriving the Arab world's most impoverished nation of direly needed foodstuff and medicine.
Jubeir also condemned European companies engaged in business with Iran claiming they are enriching the country's Islamic Revolutionary Guard Corps (IRGC) and inadvertently fueling its military activities in the wider Middle East.
"We believe that a large percentage of the Iranian economy is controlled by the Revolutionary Guards and companies associated with the guards. And we believe that any dealings with those companies only serve to enrich the Revolutionary Guards and cause them to cause more mischief within the region and the world," Al-Jubeir said, referencing the billions of dollars' worth of deals struck between European companies and Iran since the lifting of international sanctions in 2015.