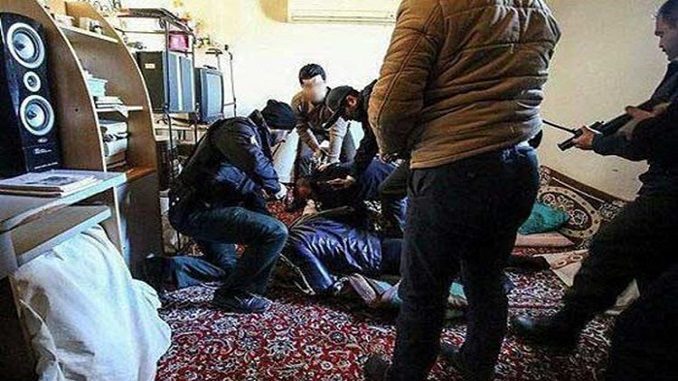 Thirty girls and boys were arrested for participating in a mixed gender party in Southeastern region 38 kilometers from Tehran, according to Iran state media.
The state run Borna News Agency reported that according to the commander of the Revolutionary Guard in the city of Varamin on Thursday night, security forces were informed about a party and after completing the supplementary information and getting the arrest warrant, they attacked the house. More than 30 youths were arrested and were taken to custody.
Mullah Seyed Mohsen Mahmoudi had already warned against holding such mixed gender parties which were aimed to distort the religious prestige of the city of Varamin, according to the same report.
Earlier in September , up to 19 men and women were arrested in Iran after they attended a private party in the city of Sirjan in southern Iran. The young Iranians were detained following a raid by State Security Forces (police) in a suburban house , state-run news outlets reported on Sunday, September 4.
An official of the Iranian regime's judiciary said the detained individuals included 7 men and 12 men while the State Security Forces are searching for a number others involved in organizing the party.
"The arrested were transferred to prison and the house was sealed," the city's prosecutor Mohsen Nikvarz.
The judiciary official warned about holding parties and reiterated that the violators will face fullest extent of punishment," state-run Mehr News Agency reported. Similar raids have been carried out on birthday and graduation parties across Iran in recent weeks. On August 8, the Prosecutor General of the Kerman Province (Southern Iran) announced the sealing of three centers for arranging night parties and arresting 18 people.
"These people have been detained in the suburbs of the Kerman City within the special plan for fighting the vice, Dadkhoda Salari told Mizan new agency.
The judiciary official described the launching of the night parties as a sign that "the enemy has broken our borders, entered into the realm of society and houses," and argued that the prosecution would act promptly in dealing with "manifestations of depravity."
In May, up to 30 students were given 99 lashes each for attending a mixed-gender graduation party. The young men and women were all flogged in Qazvin, about 90 miles north west of the capital Tehran, as part of a brutal new crackdown.