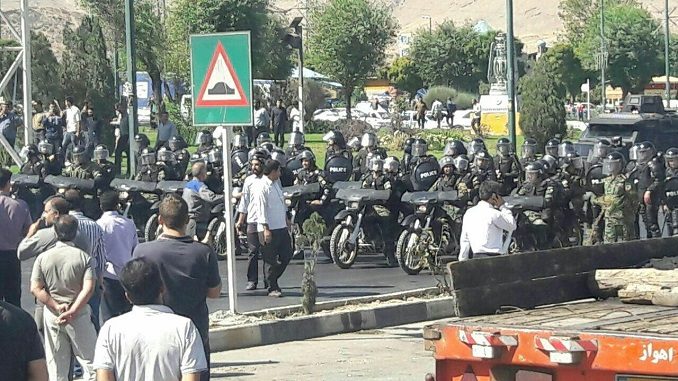 The Iran regime has arrested some police officers as the protest of the workers of Azarab Industry (A.I.C) in Arak, Central Iran, NCRI Iran News reported. The police officers did not follow the order to beat the workers, saying "We will not beat our countrymen with baton."
Many workers were injured detained, and have been transferred to the hospital, according to the Free Workers' Union of Iran. The commander of the Disciplinary Forces in Markazi Province, Kiyoumars Azizi, supported the regime's attacks on workers claiming that the police have to resort to legal authority in order to ensure the public security.
Last Wednesday, 1,800 workers of the Azarab factory in Arak gathered for the fourth day of their protests demanding the unpaid salaries and benefits for six months. According to the workers, the company has no problem in terms of work and liquidity, and thief government directors who themselves have astronomical salaries and revenues refuse to give workers their rights.
They are demanding payment of wage arrears, insurance and bank insurance payments, and resuming operations. The repressive forces attempted to disperse workers by firing tear gas and air shooting and beating the workers with clubs.
Workers from the two Hepko and Azarab factories in Arak have already gathered several times before protesting their unpaid salaries. Provincial authorities have repeatedly pledged to pay the unpaid salaries of these workers, but the workers said in their gatherings that they did not fulfill these promises.
Previously, security forces had repeatedly attacked labor union gatherings and wounded or detained workers. In recent years, dozens of workers have also been sentenced to prison for holding trade union gatherings.
The workers of the Hepko and Azarab factories are not the only unsatisfied group in Iran these days. Latest report indicate that plundered shareholders of Caspian Financial institute who have been protesting round the clock in front of the country's judiciary since last week, expanded their rally chanting anti-government slogans.
The plundered shareholders said they will continue with the sit-in demonstration until their money is redeemed by the IRGC backed Caspian Institution.