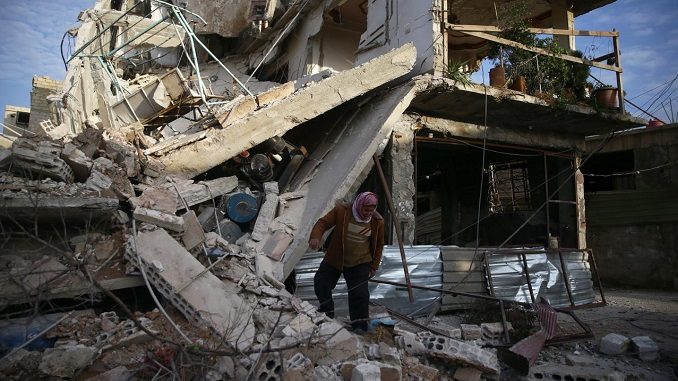 Turkey's Foreign Minister Mevlut Cavushoglu said that Syrian government air strikes in eastern Ghouta were unacceptable and called on Russia and Iran to put pressure on Damascus authorities, Reuters reported.
"Russia and Iran need to stop the Syrian government," Cavusoglu said.
He added that an offensive by pro-government forces in the northern Syrian province of Idlib also violated an agreement between Turkey, Iran and Russia. As part of a peace process aimed at stopping the seven-year war in Syria, Turkey, Iran and Russia sought to create de-escalation zones across the country, including one for Eastern Ghouta and the rebel-held Idlib province.
According to the Syrian Observatory for Human Rights, more than 400 people including 98 children have been killed since the Syrian regime and its Russian ally intensified their bombardment of the besieged area on Feb. 18. More than 2,000 people have also been wounded in the enclave east of Damascus, Arab News reported.
"Since the beginning of the conflict, tens of thousands of people have died in Eastern Ghouta alone, and that is enough, these people must not die," Cavusoglu said.
Turkey has been working closely with Iran and Russia, strong supporters of Syrian President Bashar al-Assad, despite repeatedly calling for the ouster of Assad. According to Cavusoglu, "the killing of women and children is a typical method of the regime."
Meanwhile, U.S. President Donald Trump criticized Iran, Russia and Syria for what he called "a humanitarian disgrace" in the Syrian civil war, Bloomberg reported.
"I will say what Russia and what Iran and what Syria have done recently is a humanitarian disgrace. What those three countries have done to those people over the last short period of time is a disgrace," Trump said.
Speaking about the U.S. role in and around Syria, he emphasized that "we are there to get Daesh and get rid of Daesh and go home." According to him, that goal is largely accomplished.