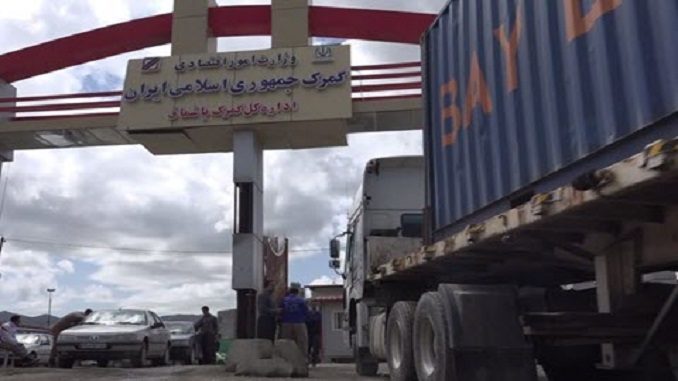 The Deputy of the Iranian Chamber of Commerce announced that despite the establishment of a $1 billion credit line (by Iran regime) for Syria, this country has created "restrictions" on import of Iranian goods. He also announced that in recent weeks "Iraq has raised Iran's dairy export tariffs form 5 to 25 percent in one day."
According to the  ILNA news agency, Hossein Salahvarzi, emphasized on Friday, December 3, that the "restrictions" imposed by Syria on Iran's products made Iranian exporters virtually unable to export their supplies to Syria. Salahvarzi, however, did not mention details of the restrictions imposed by Syria on import of Iranian goods.
According to officials of the Chamber of Commerce, the volume of Iranian exports to Syria before the conflicts in the country amounted to about $350 million a year, which has dropped to about $250 million per year after the conflicts.
Some members of the chamber of commerce have previously reported the obstacles to money transfers and intense administrative paperwork and customs regulations as other problems in the export of goods from Iran to Syria. In the past years, the Iranian regime has provided a lot of financial assistance to the Syrian regime, including two $1 billion and $3.6 billion credit lines to export goods to that country.
Meanwhile, Reuters and other media reported earlier that since 2013, the Iranian regime's central bank has provided its Syrian counterparts with several credit lines worth a total of $5.6 billion to be used by Damascus regime mainly to import Iran's oil. Tehran and Damascus have also signed numerous agreements on oil, electricity, energy and other industrial sectors.
Construction of a 540 MW power plant in the coastal city of Latakia, reconstruction of power equipment, power plants and transmission lines in Syria, establishing of a factory in Syria interdependent on Iran's "Iran Khodro" car manufacturing plant and launching the third mobile phone operator are among these agreements.
Bloomberg News Agency reported in 2015 that according to estimates and investigations, Tehran has provided $6 billion a year in government spending to support Assad's regime, and in some cases it provided up to $15 billion.
The European Union is Iran's biggest trading partner at $8 billion a year (and pending deals that may increase it further) but do Britain, France, and Germany value that partnership over their supposed opposition to the Iranian Regime's nuclear weapons programme, NCRI Iran News asks.
Former U.S. Secretary of State Colin Powell warned that the Europeans were being too lenient on Iran. He said that Iran's nuclear transgressions need to be referred to the UN Security Council and possibly placed under economic sanctions, but Europe seems more concerned with business deals, like the $10.5 billion Europe has invested in Iranian oil- which goes directly into the Regime's war chest.
This money only serves to create more domestic repression, regional warfare, and international terrorism.
Peter Brookes, a Senior Fellow for National Security Affairs for the Heritage Foundation, wrote:
"Only a united international front can contain the mullah's atomic efforts. If we don't address Iran's nuclear ambitions with vigour and verve, we'll end up in the same situation we have today with North Korea, where a nasty regime possesses nasty weapons."
New talks on the proposed UN resolution will begin on Wednesday November 29. While the outcome is unclear, what we do know is that if the international community fails to rebuke Iran for its past actions, then the Regime will take this as a free pass to go nuclear.