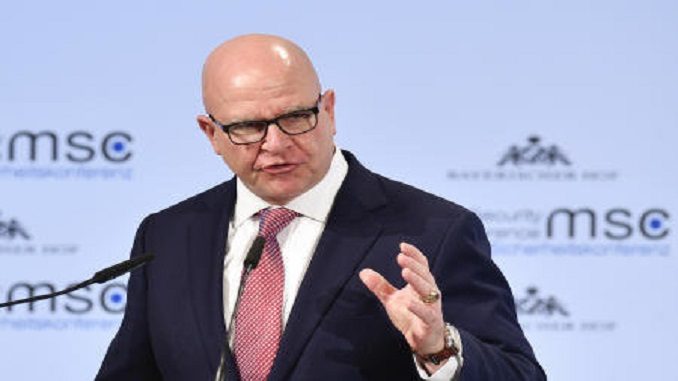 Iran is building and arming an increasingly powerful network of proxies in countries like Syria, Yemen and Iraq that can turn against the governments of those states, U.S. National Security Adviser H.R. McMaster said on Saturday, Arab News reports.
"What's particularly concerning is that this network of proxies is becoming more and more capable, as Iran seeds more and more …destructive weapons into these networks. So the time is now, we think, to act against Iran," McMaster told the annual Munich Security Conference.
More U.S. warnings on Iran came on Thursday from at the Government House in Beirut, where U.S. Secretary of State Rex Tillerson held talks with the Lebanese president and other officials. He warned Lebanon that the Iran-backed Hezbollah group's growing arsenal and involvement in regional conflicts threatened Lebanon's security.
In recent weeks, the Trump administration sanctioned several people and entities associated with Hezbollah as part of an effort to increase pressure on Iran.
"Hezbollah is not just a concern for the United States. The people of Lebanon should also be concerned about how Hezbollah's actions and its growing arsenal bring unwanted and unhelpful scrutiny on Lebanon," Tillerson said. "Hebollah's entanglement in regional conflicts threatens the security of Lebanon," he added.
Meanwhile, Israel has accused Iran of attempting to set up weapons factories in Lebanon, and the Israeli military has called the country a "large missile factory."
On the other side, Former U.N. Ambassador John Bolton said that Iran's invasion of Israeli airspace with a surprisingly advanced unmanned aerial vehicle, and Israel's strong military response against Syrian air defenses was an example of "just how complex the situation is throughout that part of the Middle East, and therefore why anyone incident has a potential to escalate."
"Most people think this was an Iranian drone flown out of Syria. What this means is that Iran is right on Israel's border. Iran has long been the largest state funder of international terrorism. We know they're trying to get nuclear weapons, their ballistic missile program is well advanced, so Israel and many of the Arab states in the region are threatened," he continued. "."
The incident was linked to defensive U.S. airstrikes in Syria over the past week, Bolton believes. Forces loyal to the regime in Damascus approached Syrian rebel positions where American advisers were present. He noted, "It turns out that the result of the airstrike by American forces was dozens—or, if you look at some press reports, a hundred or two hundred—so-called 'Russian mercenaries'."
"Russia is projecting power in the Middle East. They are aligned with Iran. This is a very dangerous moment there for Israel, for some of the oil-producing monarchies—and obviously it's dangerous for us, too," Bolton warned, and added, "The Trump administration has a lot of ground to make up here." He called Iran, "the principal threat to peace and security in the region."
Meanwhile, former White House deputy national security adviser Ben Rhodes, who was instrumental in helping secure media support of the 2015 Iranian Nuclear Deal through manipulation that he admitted, has now joined the board of directors of the Ploughshares Fund, a foundation that also helped to sell the deal by paying for favourable media coverage of it, Iran Focus reports.
Back in 2015, before the Iran Deal was agreed, Joe Cirincione, president of the Ploughshares Fund told NPR's All Things Considered that he believed the American security establishment was solidly behind the deal and said that opponents to the deal were merely trying to block everything that President Obama wanted to do. It was discovered, after the deal was finalized, that the Ploughshares Fund actually paid for the favourable NPR coverage, having given them $100,000 in 2016 and $700,000 over the past decade.
They also gave money to other left-leaning publications like ProPublica, Mother Jones, and the Nation. They even produced a "Cultural Strategy Report" to track the influence they were buying and paid a Columbia professor to maintain a listserv to promote these "newly minted experts" on the Iran Deal. The Ploughshares Fund even attacked press outlets that criticised the Iran Deal, like the Associated Press and the New York Times.
In 2016, Rhodes told the New York Times that he had manipulated the media in order to sell the Iran Deal to the public, effectively creating an echo chamber. In itself, that is terrifying. Worse still, is that he outright admitted it and faced no blowback. It's easy to see why Rhodes seemed like a good fit, but it presents a worrying picture of a media that does not hold the powerful to account.
Another unsettling revelation from Rhodes recently is that of his comments on Obama's non-intervention in Syria in the documentary, The Final Year, which follows Obama's foreign policy team throughout 2016. Obama has often been criticised for not intervening in Syria when Bashar Assad first used chemical weapons on his own people and many have speculated that Obama didn't want to risk the Iran nuclear deal, given the close relationship between Assad and the Iranian Regime.
In the documentary Rhodes not only legitimises the claim, but also defends it by saying that intervention in Syria would have dominated Obama's second term and the Iran deal would never have been passed. Given that the Iran deal has failed and that over 400,000 have died in the Syrian civil war, this trade-off was not the right one and Rhodes should stop pretending otherwise.