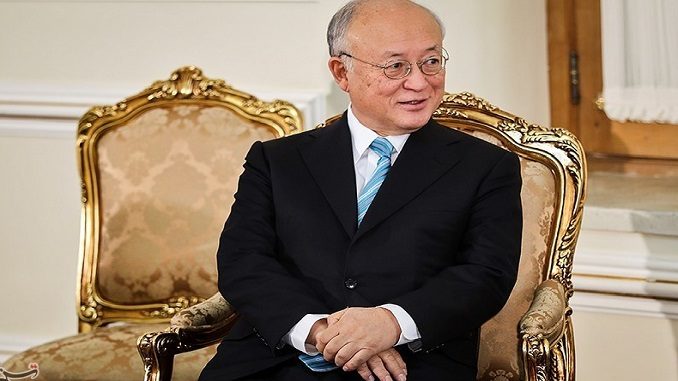 The head of the United Nations nuclear watchdog will visit Iran on Sunday for talks with senior officials, as opposition from the United States threatens to undermine an international accord to curtail Iran's nuclear program.
UN nuclear chief Yukiya Amano will meet with Iranian officials this weekend to discuss Tehran's implementation of its 2015 nuclear deal with world powers, the International Atomic Energy Agency has said as quoted by Radio Farda.
Also to be discussed in Amano's meetings on October 29 will be the agency's work verifying Iran's compliance with curbs on its nuclear activities that the deal requires in exchange for sanctions relief.
IAEA officials will also be present when Iranian technicians take soil samples taken from an Iranian military site at Parchin, according to diplomats, as part of the agency's investigation into the possible military dimensions of Iran's past nuclear program. Both Iran and the IAEA have said details of the Parchin agreement are confidential. Iranian state news agencies reported that Amano will meet with Vice President Ali Akbar Salehi, who oversees Iran's nuclear activities, among others.
Iranian Foreign Ministry spokesman Bahram Qasemi said on Wednesday that  Amano's imminent visit to Iran is in tantamount to decisive support of the international body for the 2015 nuclear deal.
Amano's visit to Tehran comes in continuation of the reciprocal meetings between the agency's directors and Iranian relevant officials with the aim of reviewing the latest situation of cooperation between the two sides in various fields related to the international pact, issues of safeguards and nuclear collaboration in peaceful sectors. The meeting comes at a time when U.S. President Donald Trump is seeking to toughen up the nuclear deal, arguing that its provisions governing inspections in Iran are too weak to prevent Tehran from eventually developing nuclear weapons.
The U.S. Congress now has less than 60 days to decide whether to reimpose economic sanctions on Tehran that were lifted under the deal, in exchange for restrictions on Iran's nuclear activities.
Amano maintains that the deal already subjects Tehran to the world's toughest nuclear inspection regime, and says his nuclear inspectors have so far encountered no problems in investigating and determining whether Iran is complying with the deal.
The IAEA did not mention Trump's refusal to certify Iran was complying with the agreement. European Union leaders have reaffirmed their commitment to the accord, hoping that Congress will prevent the deal from collapsing. Iranian Supreme Leader Ayatollah Ali Khamenei has said Tehran will stick to the agreement as long as the other signatories do, but will "shred" the deal if Washington pulls out, as Trump has threatened to do.