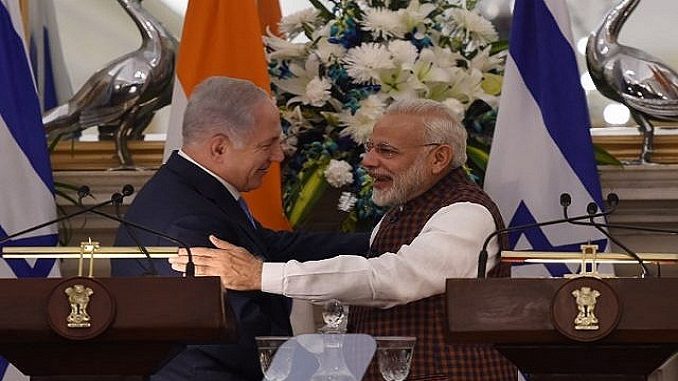 Israeli Prime Minister Benjamin Netanyahu said world leaders are running out of time to fix the nuclear deal with Iran, backing U.S. President Donald Trump on his ultimatum to European leaders, Bloomberg reports.
"I think it's the last chance for the Western world to fix the deal. They need to make changes that will prevent Iran from advancing unperturbed to nuclear weapons. That is what this deal allows," Netanyahu told Israeli journalists during a state visit to India.
The clock is ticking on the ultimatum from Trump, who has said he won't waive sanctions again, giving other signatories less than four months to come up with a solution. European and other world leaders have made clear they agree with international inspectors that Iran is abiding by limits on its nuclear program set out in the deal it reached with the U.S. under former President Barack Obama and five other world powers.
Netanyahu, who said he spoke at length on Iran with Indian Prime Minister Narendra Modi, warned against Iran's attempts to establish itself militarily in Syria, saying Israel is the only country preventing this. Netanyahu landed in India on Sunday aiming to boost bilateral trade and strengthen security and diplomatic ties. He told journalists he hopes to revive a missile contract worth nearly $500 million that India canceled with Rafael Advanced Defense Systems Ltd. two weeks before Netanyahu's visit.
The Rafael deal is "important given the direction we want to take this relationship," he said. Still, he noted, "there are many, many deals on the table."
Netanyahu also took a swipe at Palestinian Authority President Mahmoud Abbas, who said Sunday the Palestinians will "slap back" at the U.S. for the humiliation they felt when Trump recognized Jerusalem as Israel's capital last month. The Palestinians want to replace the U.S. with other international players in any future peace talks, Abbas said.
"Abbas "is doing this because he's worried about America's upcoming peace initiative. He wants to keep them out of this role as the mediator or go-between in the peace process. There is no other party that can do this," Netanyahu said.
Netanyahu's visit is the sibling of Narendra Modi's July 2017 visit to Israel during which Modi didn't visit Palestine. The increasing closeness between the leaders, at least in front of the cameras, illustrates what many describe as a tectonic shift in diplomatic relations between India and Israel.
But the Palestinian issue hasn't disappeared; Iran is still a stumbling block, and the two countries' mutual interest in outsized weapons deals plays a critical role in relations. Beyond the public relations smokescreen and the drab rhetoric of shared history, bonhomie, awkward hugs and public display of affection, pragmatic realism comes to the forefront in political diplomacy.
Realpolitik also speaks not only through statements and speeches at diplomatic forums like the United Nations but also through geostrategic engagements. India's love affair with Iran, a country that Israel is at loggerheads with, is a case in point.
India has had a long-standing relationship with Iran. This is reflected in India's interest in developing Iran's Chabahar port, considered an entrepôt to Afghanistan and Central Asia, by investing $500 million into building the port. The construction of a smelter in Iran by India's National Aluminium Co., investment in an Iran-Afghanistan rail line by India's state-run engineering company IRCON, could all be interpreted to be – borrowing Modi's twitter-trending wordplay 'I4I' – initiatives that scream "India for Iran and Iran for India."
India has very little interest in Israel's visceral antagonism towards Iran. Indian and Iranian diplomats share a quiet, behind-the-scenes camaraderie, working out the finer details of agreements that culminated in a raft of agreements signed between India and Iran.
India balances its openness to Iran with cordial and friendly diplomatic relations with Arab states that are both close to and enemies of Iran – and Israel: Saudi Arabia, Syria, Iraq, and Yemen.