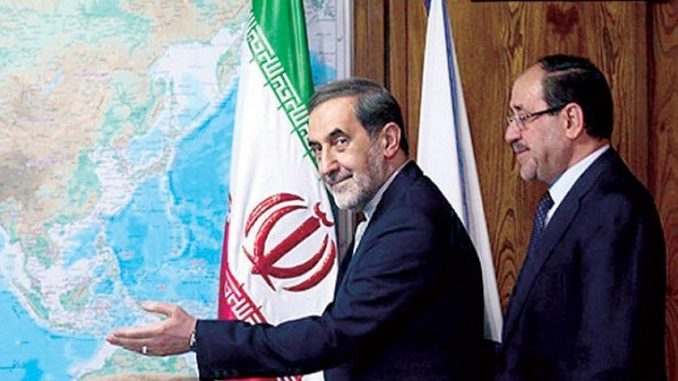 Iranian politician Ali Akbar Velayati's statements that Tehran will not allow liberals or civil society activists or anyone who does not fit Tehran's criteria to return to power sparked Iraqi officials' outrage. National Coalition bloc MP Abdul Karim Abtan slammed Velayati and said Iraqis do not work for him, Al Arabiya reports.
"We do not work for Velayati or anyone else. We are Iraqis and our national project is Iraqi. Velayati may have power over one or two Iraqi (politicians) but this power will not last," Abtan told Al-Hadath television channel, adding that they will not allow Velayati to interfere in Iraqi affairs.
Meanwhile, Iraqi Communist Party leader Raid Fahmy said Velayati's statements mark an interference in Iraqi affairs and violate the constitution. Fahmy also called on Velayati, who is an advisor of Iranian supreme guide Ali Khamenei, to clarify his remarks.
Iraqi politician Izzat Shabandar called on Iraqi Shiites to condemn Velayati's statements, adding that Velayati always makes statements that embarrass Iran and its Iraqi allies.
Senior Adviser to Iranian Supreme Leader Ali Akbar Velayati said on Saturday in Baghdad that the Tehran-led regional force will not allow for U.S. bases to settle east of the Euphrates. On the sidelines of his meeting with Iraqi Vice President Nouri al-Maliki, Velayati said that the 'axis of resistance' (referring to paramilitary militias spread across the region and supported directly by Iran) would not allow NATO to establish regional bases. He called on these forces to prevent "gradual stabilization" of American forces in eastern Euphrates.
According to Revolutionary Guards news agency Tasnim, Velayati discussed with Maliki upcoming elections and the role of political parties and forces, in addition to future strategies for forces Iran backs in the region. Velayati official relayed Iran's opposition to the "return" of U.S. forces to Iraq.
On the other hand, Revolutionary Guard Major General Yahya Rahim Safavi was cited as demanding that Iran recover the price it had paid on Syria battlefields. Safavi stressed, during a conference on the latest political and field developments in the Syrian crisis, that Iraq and Syria have played the role of arenas for U.S.-Russian geostrategic conflict. He also reviewed previous positions on a geopolitical stage in the West Asia region, amid intense competition between America, Russia, and the European Union.
Safavi considered that his country is engaged in regional geopolitical, geostrategic and geoeconomic competition with Saudi Arabia and Turkey in Iraq and Syria.
"However, Syria and Iraq are also the geopolitical, geostrategic, geographical and economic rivals of regional powers such as Iran, Turkey, and Saudi Arabia. We have two races being run in these countries, a global competition and a regional competition. Iran must recover the costs it paid in Syria," Safavi said, adding that the Syrians were "ready to pay for oil, gas and phosphate minerals."