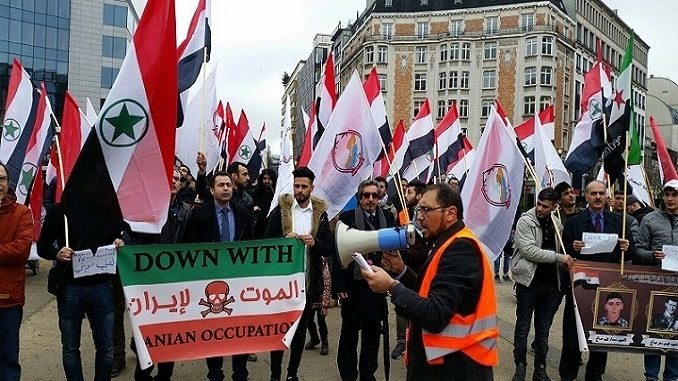 A mass rally organized by Europe's Ahwazi community took place in Berlin on Friday. Demonstrators demanded that the German government, headed by Chancellor Angela Merkel, intervenes immediately regarding Iran's increasingly oppressive human rights violations against the Arab people of occupied Ahwaz.
The demonstrators consisted of Ahwazi Arab diaspora and their allies. All held banners in both Arabic and German, which included slogans such as "Freedom for Ahwazi prisoners", "Freedom for Ahwaz", and "We ask Germany to urge the Iranian regime to free Ahwazi prisoners."
The demonstration comes in light of the Iranian regime's relentless human rights abuses against Ahwazis – including massive campaigns of secret arrests and imprisonments of those who have had no official charges brought against them. It should be noted that the Iranian regime has sentenced dozens of Ahwazi prisoners to death after unfair trials based on confessions extracted under torture supervised by the Iranian Revolutionary Guard Corps (IRGC).
The head of the Ahwaz Organization for the Defense of Human Rights, Fayez Rahim, said that Iranian regime forces have arrested 200 Ahwazis since the beginning of the year. He also added that The Iranian Revolutionary Court in Ahwaz sentenced two Ahwazi activists to death. They are Abdullah Abdullahi and Qasim Bait Abdullah from the Shahour neighborhood of Shush city. The court also sent 6 of their fellow activists to the prison as well, with sentences ranging from 3 to 30 years.