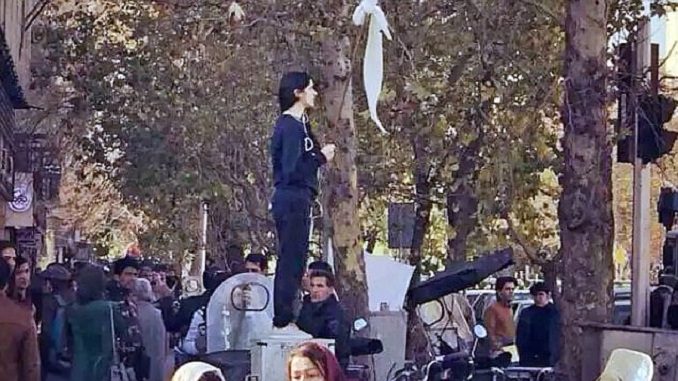 Amnesty called on the Iranian government to release an unnamed woman arrested for taking off her headscarf in public to protest the Islamic dress code, Daily Mail reports. A footage showing the woman standing on a pillar box in central Tehran, waving a white hijab in the air vent viral. According to some witnesses, the 31-year-old mother of one has not been seen since law enforcement officials arrested her.
Amnesty International stated that Iranian authorities must immediately and unconditionally release her. The human rights organization described her actions as "engaging in a peaceful protest against compulsory veiling (hijab)." Three eyewitnesses told the organization that the woman was arrested on the spot and transferred to a nearby detention center known as Kalantari 148.
There is no information about her fate and some fear about the well-being of the woman. Many people shared messages of support on social media. The woman was dubbed "Girl of Enghelab Street" after the area in Tehran where she took off her hijab. A hashtag #WhereIsShe has gone global and some activists called on the United Nations to do something and take the Iranian authorities to task and force them to tell what happened to the woman.
According to Nasrin Sotoudeh, an eminent human rights lawyer, the woman is in custody. Sotoudeh has taken it upon herself to investigate the disappearance of the protester. She managed to find out that the woman is 31-years old and has a 19-month-old baby, but couldn't find out her name.
"The witnesses on the scene who saw her being taken away and even accompanied her to the police station gave me this information. I have no contact with her family," she said.
According to the Iranian Islamic legal code, women have to wear a headscarf and long clothes that cover the arms and legs. Breaking the rules can bring fines of up to 500,000 rials (12 dollars) and up to two months in prison.  But, Sotoudeh explains that authorities often go beyond what is punishable by law for not wearing a headscarf.
"Before even being tried by legal authorities, women are taken to a place called 'Gasht-e Ershad' [Guidance Patrol], where they can be harshly beaten up. Whether a case is opened for them or not is not important. The illegal punishment they have had to bear has always been much more than what is foreseen in the law," she says.