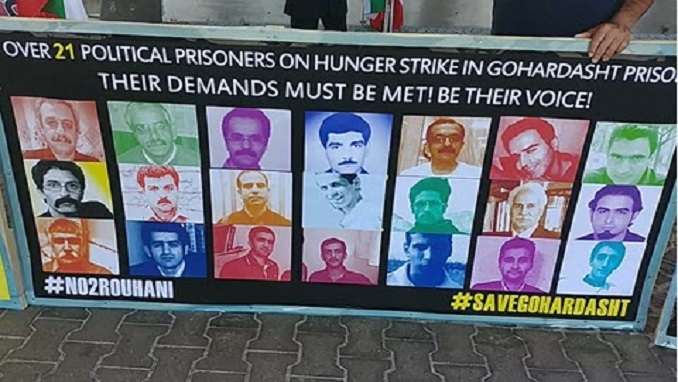 Th health and physical condition of prisoners on hunger strike in Gohardasht prisoners is in decline. There are currently about 25 prisoners on hunger strike demanding their return to Hall 12 and the return of all personal belongings. Participants can barely walk and are suffering from heart, lung, and kidney ailments while being deprived of all medicine.
Prosecutor General of Tehran, Abbas Jafari- Dolatabadi, who is currently on the EU sanctions list for gross and pervasive violations of human rights, said on August 23, "We say to some prisoners who go on hunger strike and make other threats that these actions have failed, and the judiciary will not surrender."
His remarks highlight the regime's lack of respect for the minimum rights of prisoners, while also hinting at further threats. Nonetheless, other prisoners have declared their solidarity or joined the hunger strike.
Over the past few weeks, political prisoners in Iran's Gohardasht Prison have been protesting against the intensified suppressive measures in the facility. The inmates' hunger strike has garnered wide support by political prisoners throughout the country.
In recent months some of the prisoners had smuggled out letters describing the inhuman conditions at different prisons. Some called for justice for the families of political prisoners executed by the Iranian regime, including the 30,000 victims of the 1988 massacre. The regime has responded with further crackdowns.
In late July, political prisoners in Ward 4, Hall 12 of Gohardasht Prions were transferred to unbearable conditions in Hall 10, which is completely isolated and constantly monitored by 40 closed circuit cameras and 64 listening devices. All windows are sealed with metal plates, preventing any ventilation, and the hall lacks clean running water.
Prisoners had previously stated that if the transfer went ahead they would go on hunger strike, but on Sunday, July 30, more than 50 individuals were forcibly transferred. They were not allowed to take personal belongings, including medicine.