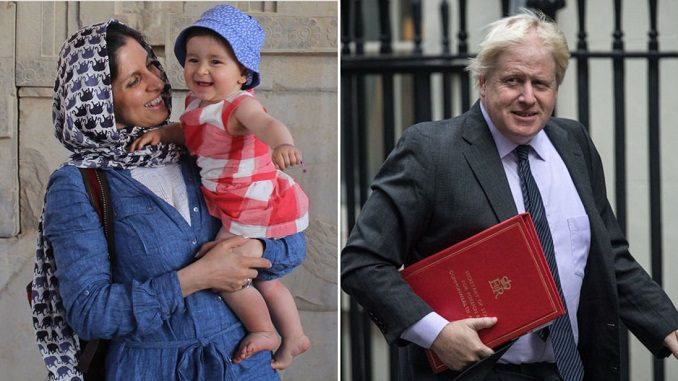 UK foreign secretary Boris Johnson is expected to visit Iran this weekend- his first trip there as Foreign Secretary- intensifying a diplomatic drive to secure release of a British-Iranian woman detained for 20 months, Sky News reports.
The dual British-Iranian national from north London was sentenced to five years in prison in the country in 2016, over allegations of plotting to overthrow the Iranian government – charges she denies.
Johnson is calling for Nazanin Zaghari-Ratcliffe, a charity worker who is said to be close to a nervous breakdown, to be released on humanitarian grounds. Last month, he was forced to apologize after saying she had been "teaching people journalism" when she was arrested. Zaghari-Ratcliffe's family and her employer, the Thomson Reuters Foundation, say she was in fact on holiday.
He is likely to meet with senior government officials, including the country's foreign minister, Javad Zarif, and will attempt to secure the British woman's release. However, a swift resolution to the saga is unlikely, because Iran has refused to recognize Zaghari-Ratcliffe's British citizenship and is treating her as an Iranian.
Commenting on news of Johnson's trip, Amnesty International UK's director, Kate Allen, said:
"We're cautiously hopeful that this could be the light at the end of the tunnel for Ms Zaghari-Ratcliffe. As we've been saying over and over, Ms Zaghari-Ratcliffe is a charity worker who's been jailed for five years after enduring solitary confinement and a deeply unfair trial. The Iranian authorities have a record of toying with the fate of prisoners being held for 'political' reasons, so it's still very hard to feel confident that her release is imminent. We fervently hope the Foreign Secretary's visit can secure her speedy release, but if it doesn't we'll go on campaigning. This is a gross injustice and it must be set right."
The British government had sought to keep Zaghari-Ratcliffe's case out of the headlines since her detention. But the domestic political furore, combined with news reports on Iranian state media, turned it into a key priority for the foreign secretary. His visit comes after a report on Iranian state media last month suggested Zaghari-Ratcliffe could be released on parole in time for Christmas, having served one-third of her five-year term.
"The judiciary has no problem with releasing her but the Revolutionary Guards [which arrested her] have resisted an early release. A visit by Mr Johnson would mean those inside the regime who care about relations with the UK and Europe have managed to win this case," said a reform-minded analyst in Tehran.
Iran is walking a tightrope in its relations with Europe, amid increasing pressure from the U.S. and regional rivals, notably Saudi Arabia. It hopes improved ties with Europe will help save the landmark nuclear accord signed in 2015. Britain has been a strong supporter of the Iranian nuclear deal, but has complaints about Tehran's involvement in conflicts across the Middle East.
On Thursday Johnson gave a speech calling for Britain to re-engage in the region, including doing "more to resolve the conflict in Yemen." Iran is widely suspected of arming the Houthi rebels in the Yemeni conflict. Johnson's speech made only one direct reference to Iran — saying that Britain's decision not to intervene military in Syria in August 2013 had left "the pitch wide open for Russia and Iran."
Zaghari-Ratcliffe has had only intermittent access to her young daughter since being arrested in April 2016. Her husband, Richard Ratcliffe, has been denied a visa to enter Iran since his wife's detention. He has pushed for her to be released in time to spend Christmas with her family.
The UK has denied her case is linked to a longstanding British £400m debt to Iran, which has remained unpaid due to sanctions on the country's military. But Ratcliffe has said that paying the debt would encourage Iran to comply with its own international obligations.