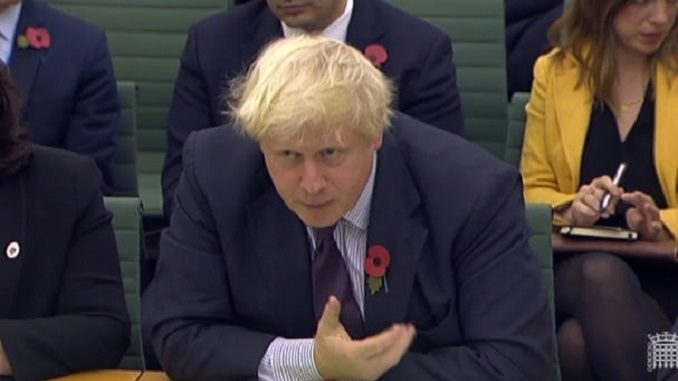 British Foreign Secretary Boris Johnson will travel to Washington next week in a bid to persuade U.S. senators not to abandon the Iran nuclear deal or to impose fresh sanctions against Tehran that could jeopardize the deal, The Guardian reports.
Speaking to the foreign affairs committee, Johnson said that although Iran's behavior was creating an incredibly dangerous situation, it was vital that U.S. did not respond by "throwing the baby out with the bathwater" by rejecting the deal outright. According to him, the 80 million Iranians deserve and need to feel the benefits of both the deal and engagement and the International Atomic Energy Authority has found the Iranians in compliance.
"The country had a potentially extraordinary future," Johnson said, adding that perception "should not in any way blind us to the disruptive behavior of Iran, or have any illusions about what they are up to."
Johnson said it might be possible to take measures to try to constrain Iran, but he did not want any measures to impact the nuclear deal so that it was "no longer viable from the Iranian point of view". He added he was concerned that further sanctions might also damage the limited economic engagement already underway.
He went out of his way not to criticise Trump's way of handling the issue saying it was significant that he had only refused to recertify the agreement, handing that task to Congress to make a final decision within 60 days. Johnson also condemned Iran's detention of British citizen Nazanin Zaghari-Ratcliffe and even offered to visit her in prison.
The foreign secretary has been criticised for refusing to condemn the jailing of the charity worker, who has been held since her arrest by Iran's Revolutionary Guard in April 2016. But, speaking to a committee of MPs, Johnson attacked both Zaghari-Ratcliffe's conviction for spying as a mockery of justice and her treatment by the authorities in Tehran.
Johnson said Iran resembled a Russian doll, with different states such as the Iranian Revolutionary Guards operating inside the state, but the task of the west was to encourage the democratic and civilian elements. Johnson's strong attack came despite him warning that "very loud public campaigns" to free UK nationals held in the middle eastern country can easily backfire.
"That simply strengthens the hand of those who are using this case for their own internal ends in Iran," he told the committee.