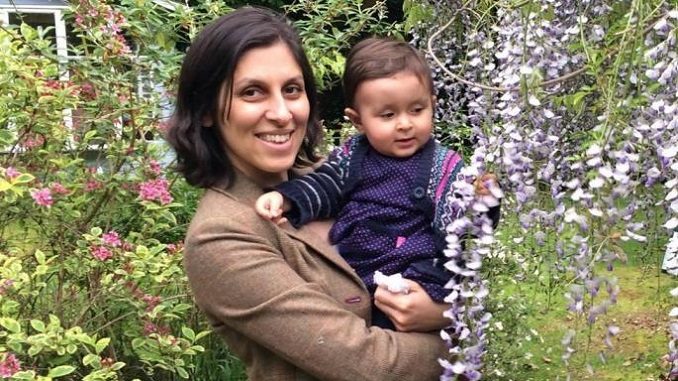 The release of a British-Iranian woman held in an Iranian prison is reportedly being held up as a result of a 400 million-pound debt that London owes Tehran, a family member of the prisoner said.
According to The Telegraph, Nazanin Zaghari Ratcliffe, who has been detained in prison since 2016, said that she was told by an Iranian judge that her release depended on a dispute regarding the interest owed on an unfulfilled arms deal from the 1970s.
The deal, which was supposed to provide a consignment of British Chieftain tanks and support vehicles, was paid for upfront by the Shah of Iran but was later canceled when he was overthrown in the 1979 revolution. Tehran has been seeking to get its money back ever since.
Even though Britain paid the debt in 2002, there still is a dispute over the interest which remains to be paid as well as over the legality of making such a payment to Iran at a time when the country was under international sanctions.
British officials have previously denied any link between talks over the debt and Mrs. Zaghari Ratcliffe's release. However, her husband Richard Ratcliffe maintained that an Iranian judge told his wife in a Wednesday meeting that her release depended on the sum of the interest that the UK needs to pay. The judge also told Zaghari Ratcliffe that Iranian foreign ministry is currently in talks with the UK government over finalizing the sum to be paid.
"It is the first time we've been told that it is linked to the dispute over the interest rate. But it is at least the second time an Iranian official has told Nazanin that her case is linked with the arms deal debt," Nazanin's husband told the Telegraph.
"A fight over a half or one percent of interest rate does not seem such a big stone worth keeping a mother in prison away from her baby," Mr. Ratcliffe added.
Mrs. Zaghari-Ratcliffe has been charged with attempting to undermine the regime and has been held in Evin prison where she had the meeting with Judge Abassi. She said the judge had told her that the money was "Iran's right" and that Iranian diplomats are "finalizing with the UK the calculation of the interest owed on the debt."