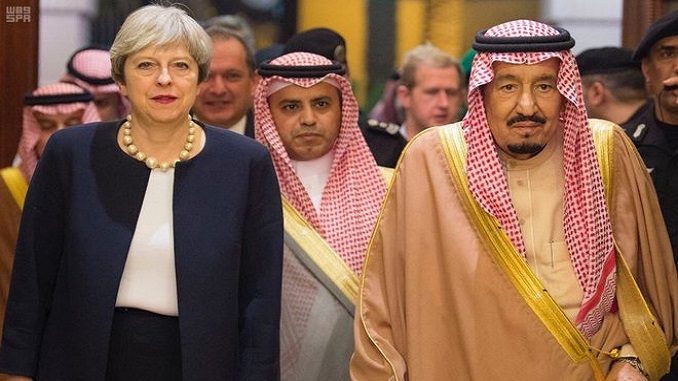 British Prime Minister Theresa May warned against Iran's "destabilizing regional behavior" during a visit to Saudi Arabia, Arab News reports. Meeting with King Salman and Crown Prince Mohammed bin Salman in Riyadh, May noted Britain's shared concerns about Iran and agreed that more work was needed "to bring the international community together to counter it."
She also raised the situation in Yemen and emphasized the need to re-open supply channels to facilitate the movement of vital aid to avert a humanitarian catastrophe.
"They agreed that steps needed to be taken as a matter of urgency to address this and that they would take forward more detailed discussions on how this could be achieved," a Downing Street spokesperson said.
Saudi Arabia closed major ports in response to security concerns after Houthi militias fired a missile toward Riyadh on Nov. 6 but has since partially re-opened some hubs. During the meeting, regional security and stability were discussed, noting the positive progress made in Iraq in the fight against Daesh. May also expanded on Britain's previous messages of support for the Saudi Vision 2030, the Kingdom's blueprint for social and economic reform.
Crown Prince Muhammad bin Salman "is somebody who has a very clear vision," May said in her statement before leaving for Saudi Arabia. She was referring to the crown prince's program of reforms that includes goals to increase the participation of women in the workforce and increase non-oil government revenue.
"We've already seen some changes taking place in Saudi Arabia, for example women being allowed to drive. It's important that we work with him," May said.
The British prime minister arrived in Riyadh Wednesday evening from Iraq. She is on a three-day tour to the Middle East during which she is expected to visit Jordan also.
"This visit demonstrates that as the UK leaves the EU we are determined to forge a bold, confident future for ourselves in the world. It is clearly in the UK's security interests to support Jordan and Saudi Arabia in tackling regional challenges to create a more stable region, and in delivering their ambitious reform programs to ensure their own stability," a spokesman for May said.