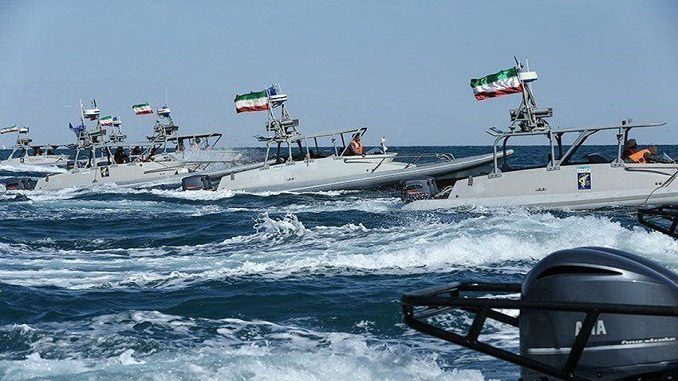 It was reported this week that U.S. Navy vessels in the Persian Gulf had stopped experiencing dangerous close encounters with fast attack boats operated by the Iranian Revolutionary Guard Corps. In the two years following the July 2015 signing of the Iran nuclear agreement, there had been reports of approximately 50 such incidents, in which the IRGC boats maneuvered close to American ships, often at high rates of speed and with their weapons on display.
In some cases, the crews of the Iranian vessels refused to deviate from their course until the U.S. Navy had fired warning shots after first signaling with radio broadcasts, lights, and sirens. But the last of these incidents took place in July, and there have evidently been no significant encounters of this nature in the intervening six months. According to Newser, the U.S. military has no official explanation for why the IRGC's behavior has changed, but the report quotes Ali Vaezi of the International Crisis Group as speculating that Tehran is exhibiting more caution out of fear that aggressive gestures will give the Trump administration justification for reprisals.
U.S. President Donald Trump spearheaded an increase in the assertiveness of U.S. policy toward Iran almost immediately after he took office. The change includes the imposition of new sanctions related to Iran's regional aggression and non-nuclear activities. Trump has also continued to threaten the nuclear deal, or Joint Comprehensive Plan of Action, which he described on the campaign trail as the "worst deal ever".
Resulting concerns over the possible re-imposition of nuclear-related sanctions have effectively discouraged Western businesses from investing in the Islamic Republic, thereby slowing the economic recovery that Tehran expected to follow the nuclear negotiations. Naturally, the furtherance of this trend is something that Iran would like to avoid, to say nothing of the additional threat of a possible open confrontation between a persistently aggressive IRGC and the U.S. military under the reactionary leadership of the Trump administration.
The Trump administration's foreign policy also entails improved ties with longstanding allies in the Middle East, most of which are bitter adversaries of the Islamic Republic. Iran and Saudi Arabia have been engaged in a significant war of words for many months, set against the backdrop of a proxy war in Yemen and a more general competition for influence over the region as a whole. EA Worldview indicated on Friday that this Arab-Iranian conflict had been on display at the World Economic Forum in Davos, Switzerland this week, which was also attended by President Trump.
In a speech before that gathering, Saudi Minister of Foreign Affairs Adel al-Jubeir accused Iran of using "sectarianism and terrorism" as part of its effort to establish regional hegemony and "restore an empire that was destroyed thousands of years ago." Jubeir's Iranian counterpart Javad Zarif had been scheduled to be in attendance at Davos but cancelled at the last minute. Nonetheless, he responded to Jubeir via Twitter, where he insisted that both the Kingdom of Saudi Arabia and the United States had armed the Islamic State of Iraq and the Levant, which Tehran takes credit for destroying through its interventions into nearby conflicts.
Saudi Arabia and the U.S. share concerns over the destabilizing effects of increased Iranian influence in those conflict zones. These concerns have also been eagerly voiced by Israel, most recently through a speech to the United Nations by Israeli Ambassador Danny Danon. The Associated Press reported upon that meeting on Friday and quoted Danon as saying that Iran was striving to turn Syria into the "largest military base in the world" in the wake of that country's devastating seven-year civil war.
This same situation adds context to recent communications between the U.S. and other Iranian adversaries. As an example of this, House Speaker Paul Ryan undertook an Arab tour this week during which confrontation of Iranian influence was reportedly a major topic of focus. The National Council of Resistance of Iran emphasized this aspect of Ryan's meeting with King Salman of Saudi Arabia. Ryan had provided specific assurances to the government of the United Arab Emirates about America's commitment to a hard stance on Iran's ballistic missile development and the proliferation of Iranian proxies in the broader Middle East.
Ryan's comments apparently give legislative backing to a strategy that had primarily been credited only to the White House. In fact, the House Speaker even specifically indicated that Congress was prepared to take appropriate measures including the imposition of new sanctions to forestall these threatening Iranian behaviors. The Middle East and North Africa Financial Network quoted him as saying that the US and Europe had begun serious discussions over the possibility of internationally-enforced sanctions over the same issues highlighted by the White House and by Ryan himself.
Some such discussions are scheduled to take place on Monday when representatives of the UN Security Council travel to Washington in order to directly examine the recovered weapons components that were put on display last month at a press conference led by U.S. Ambassador to the UN Nikki Haley.
This, of course, will be a difficult thing to achieve in light of the close relationships that Iran enjoys with two of the Security Council's five permanent members, Russia and China. But the continued accumulation of evidence for Iranian misbehavior will no doubt help the White House in its effort to overcome resistance from those Iranian allies. This may be a reason for Tehran to be wary of making threatening gestures that do not meaningfully contribute to the regime's foreign policy goals.
Empty threats against U.S. Navy ships might fall into this category, as might provocative ballistic missile tests. Both of these activities appear to have slowed since President Trump took office. Fox News reported on Wednesday that while Iran had tested 10 or 11 nuclear-capable ballistic missiles in 2016, the figure for 2016 was only four or five. These figures were extracted from a report by the Foundation for Defense of Democracies, which also reported that launches of other types of ballistic missiles brought the total number for the two years up to 23.
While the Iranian regime has reportedly diminished the frequency of some of its provocative gestures, this is not indicative of a general shift toward a more moderate foreign policy. Quite the contrary, there are clear signs of increases in activities that have more substantive effects upon Iran's position in the Middle East. For instance, the National Council of Resistance of Iran reported on Thursday that the budget for Iranian military projects had increased by 128 percent over the past four years. Total military expenditures under the new budget are 10 billion dollars, and undisclosed spending on the IRGC and the Intelligence Ministry likely push the real figure even higher.