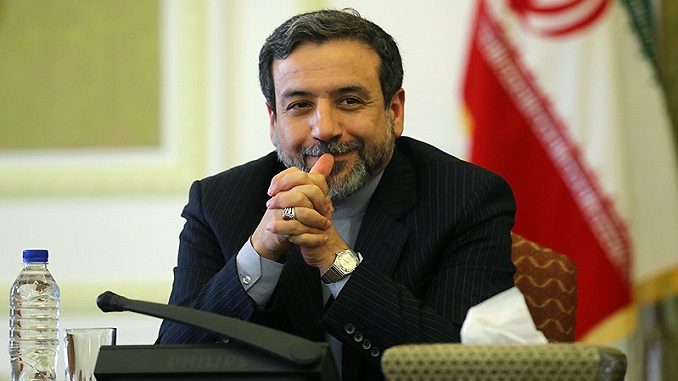 The situation with Syria is very complicated amid growing concern a wider regional war could erupt, Iran's deputy foreign minister Abbas Araghchi told the BBC. According to him, fear of war is everywhere in the region.
His statement came amid warnings by Israel and the United States over Iran's presence in Syria. According to Araghchi, Iran was there to fight terrorism. The deputy foreign minister said that the warnings about Iran's intentions were propaganda.
"Just imagine if we were not there. Now you would have the Islamic State group in Damascus, and maybe in Beirut and other places," Araghchi said.
He emphasized that Iran was in Syria at the invitation of the Syrian government. As the deputy foreign minister explained, the alliance with Syria and the Lebanese militant group Hezbollah aimed to combat the hegemonic policies of Israel.
Araghchi denied that Iran had sent a drone into Israeli airspace from Syria and said that the drone belonged to the Syrian army. Syrian air defenses shot down an Israeli warplane targeting Iranian sites in retaliation.
Israeli Prime Minister Benjamin Netanyahu brandished what he said was part of the drone at a security conference in Munich earlier this week. He emphasized that "Iran is the greatest threat to our world." Meanwhile, Araghchi said that Israel was flying drones over Syria and other countries in the region.
"They shouldn't be angry when they are faced with something that they are doing against others on a daily basis," he said.
Araghchi warned that the Iran nuclear deal is at a critical moment after Washington threatened to re-impose sanctions on Tehran. He does not believe that the 2015 agreement would survive without the United States. Washington wants EU signatories of the deal to agree permanent restrictions on Iran's uranium enrichment and U.S. President Donald Trump wants Iran's ballistic missile program to be addressed. Yet, Araghchi said that Washington also has to fulfill its part of the deal known as the Joint Comprehensive Plan of Action (JCPOA) before other issues could be discussed.
"Another deal on any other issue depends on how successful is the deal that we have already made, and we have remained fully compliant to that, and the other side has not fully complied. If the JCPOA becomes a successful experience for Iran, then they are allowed to ask us for any other issues to negotiate this," he added.
According to him, Trump's remarks about JCPOA were undermining it and that was the reason why Iran's economy was not improving. That contributed to anti-government protests. Araghchi added that peoples' expectations from the deal are not met.
"Most of it is because of this atmosphere of uncertainty which President Trump has created out, around JCPOA, which prevents all big companies and banks to work with Iran, it's a fact, and it's a violation by the United States," he said.