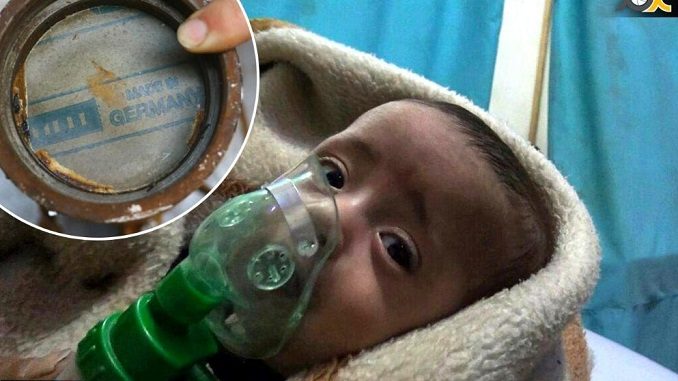 Germany's Federal Office for Economic Affairs and Export Control approved a license for a company to sell militarily applicable technology to Iranian companies that subsequently was used in Syrian regime chemical weapons attacks, reported the German publication Bild on Monday as quoted by The Jerusalem Post.
The German company Krempel, located near the southern city of Stuttgart, sold electronic press boards to Iranian companies that were used in the production of rockets.
The Jerusalem Post reported in 2017 that multiple German intelligence reports revealed that Iran sought chemical and biological weapon technology in the federal republic. The research of the human rights group, Syrians for Truth and Justice, Bild and the online investigative journalist website Bellingcat, showed photographs of the rocket remains with the company logo of Krempel and the product signature: "Made in Germany."
The rocket debris was found after two poisonous gas attacks were conducted by Syrian President Bashar Assad's regime. Krempel confirmed the delivery of the electronic technology "Pressspan PSP-3040," an insulating material with a cellulose base used for insulation. The chemical attacks took place on January 22 and February 1. The gas attack in January resulted in 21 injuries, including many children.
Bild quoted Eliot Higgins from Bellingcat, who said that both gas attacks showed that "the rockets were produced in 2016 and delivered from Iran."
The Krempel Group describes itself on its website as "an independent manufacturer of high-quality semi-finished products and a leading global system supplier of modern materials. Our electrical insulations, composites, solar and electronic materials, as well as special laminates, enjoy an excellent reputation worldwide and we are global market leaders in many of these sectors."
The company has facilities and distribution companies in Poland, China, the UK, U.S., and Austria. It is unclear if the Krempel delivery of the advanced technology is a violation of UN regulations and US sanctions. A spokesman for Krempel told Bild that the company was "shocked… that its Pressspan PSP-3040 apparently was used in motors that were applied to weapons of war."
Bild wrote that the delivery of dual-use technology to Iran, which can be used for both military and civilian purposes, raises questions whether Germany's export control policy is feeble.
Germany is Iran's largest and most important EU trade partner. German exports to Iran increased in 2017 by 19%, amounting to just under €2.4 billion in export volume. The country's Iran regime-friendly foreign minister Sigmar Gabriel has traveled with two business delegations to Iran to boost trade.
The British publication, Jane's Defence Weekly, reported in 2005 that the Islamic Republic would work with Syria to build an "innovative chemical warfare program." Iran's role was to build equipment to produce "hundreds of tons of precursors for VX, sarin, and mustard [gases]."
A June intelligence report from the southwestern state of Baden-Württemberg, where Kremple is located, stated: "Regardless of the number of national and international sanctions and embargoes, countries like Iran, Pakistan and North Korea are making efforts to optimize corresponding technology."
According to the report, Iran sought "products and scientific know-how for the field of developing weapons of mass destruction as well missile technology." The 181-page document cites Iran's cyber warfare, espionage, terrorism and weapons of mass destruction procurement activities 49 times.
A Chinese import-export company contacted a company in the German state that sells "complex metal producing machines," the intelligence agency wrote. The technology would aid Iran's development of ballistic missiles, it said.
Iran made nearly 40 attempts to obtain illicit nuclear and missile goods from Germany during 2016. According to a WikiLeaks dispatch on Tehran's role in chemical warfare, "New Zealand assesses that the cooperation is mainly driven by Iran's desire for increased strategic importance in the region. New Zealand also assesses that Iran's biotechnology sector is far more advanced than Syria's, and Iran does not mind sharing its knowledge with Syria."
Assad first used sarin nerve gas to attack the Damascus suburb of Ghouta in 2013, killing nearly 1,500 civilians, including 426 children.
Two years ago, Times of Israel quoted Der Spiegel damning report that German companies were likely instrumental in building Syria's chemical weapons arsenal, and the German government has endeavored to prevent these companies' dealings from coming to light.
The German daily reported that Berlin has had a list of companies provided by the Organization for the Prohibition of Chemical Weapons (OPCW), which allegedly supplied the Syrian regime with technology and materials used to develop and build up its chemical weapons stockpile.
But instead of investigating those companies, the government has classified the document and refused to give any details on its contents, saying releasing the information would "significantly impair foreign policy interests" as well as violate the companies' constitutional rights to trade secrecy.
Der Spiegel alleged that German businesses' complicity in chemical weapons manufacturing — whether knowingly or otherwise — goes back decades, with historical government documents indicating heavy involvement by German companies in building up Saddam Hussein's stash during the Iraq-Iran war of the 1980s. These weapons were used by Hussein to kill many thousands of Iranians as well as Iraqi Kurds.