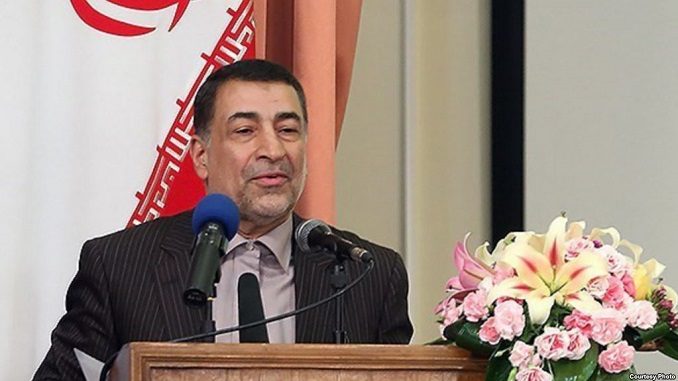 U.S. Ambassador to the United Nations Nikki Haley slammed the world body's Human Rights Council on Sunday, saying it should be "ashamed" for inviting an Iranian minister, sanctioned for known human rights violations, to speak at the council's annual meeting in Geneva this week, Times of Israel reports.
Haley said that the council was "discredited" by Iranian Justice Minister Alireza Avaie's slated address to the body's membership, adding that it only reinforces the United States' criticisms of the UN and threats to defund the world body.
"The Human Rights Council should be ashamed to allow Mr. Avaei to address its membership. Yet again the Council discredits itself by allowing serial human rights abusers to hijack its work and make a mockery of its mandate to promote universal human rights. This does nothing but reinforce the United States' call for much needed reforms at the Council for it to be viewed as a good investment of our time and money," Haley said in a statement.
Avaei's appearance alongside some 100 other government ministers and dignitaries from around the world has drawn widespread criticism from both Iranian and international activists. Members of the Iranian opposition now living in exile say that Avaei also played a key role in the massacre of political prisoners in 1988, a year in which Amnesty International says some 5,000 prisoners were executed over the course of mere months. Iranian opposition groups put the figure closer to 30,000.
"Allowing Avaie to address the Human Rights Council is disgraceful and would make a mockery of the United Nations and its human rights mechanisms. This must not happen," Shahin Gobadi, a member of the National Council of Resistance of Iran, told AFP earlier this week.
The UN Human Rights Council is set to open its 37th annual session, which will include a speech by Iran's justice minister, who has been sanctioned by the European Union and host Switzerland. The event, which will feature a three-day summit of top leaders from some 100 countries and international organizations, will begin on February 26 and run through March 23 at the Palais des Nations in Geneva.
The European Union and Switzerland have separately imposed financial sanctions on Avayi, alleging that as Tehran's former top prosecutor he was "responsible for human rights violations, arbitrary arrests, denials of prisoners' rights, and an increase in executions."
Avaei was sanctioned by the European Union in 2011 on the grounds that as Tehran's top prosecutor he was "responsible for human rights violations, arbitrary arrests, denials of prisoners' rights, and an increase in executions." Iranian opposition groups claim that Avayi played a key role in a 1988 massacre of political prisoners.
Rolando Gomez, a spokesman for the Human Rights Council, on February 23 said that member nations are allowed to decide who speaks for them at the rights body.
The EU sanctions against Avayi prevent him from travel to bloc countries and freeze assets he might hold in the EU. Sanctions imposed by Switzerland, which is not a member of the EU, are only financially related. A protest is planned in front of the UN headquarters in Geneva next Tuesday, when Avaie is due to speak.