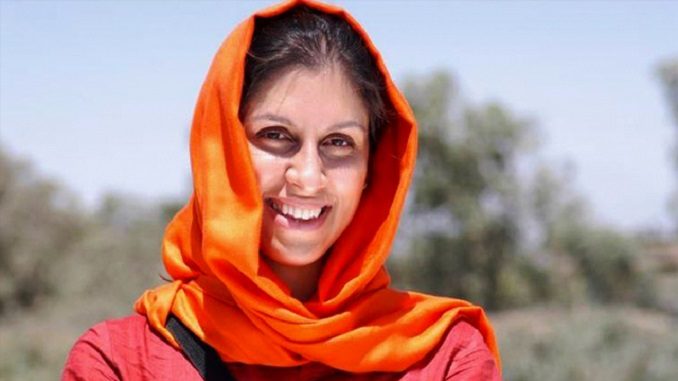 Iranian-British national Nazanin Zaghari-Ratcliffe, imprisoned in Iran since April 2016 on trumped up and unspecified national security charges, is now facing up to 16 more years in prison based on new charges brought by the arresting authority, the Islamic Revolutionary Guard Corps (IRGC), according to her family.
"Threatening Nazanin Zaghari-Ratcliffe with more years behind bars after she was imprisoned without full due process is unjust and inhumane," said Hadi Ghaemi, the executive director of the Center for Human Rights in Iran (CHRI).
"The Iranian and British governments must work for her immediate release from the clutches of the IRGC and the judiciary, whose cooperation in politically motivated cases reveals the deep corruption of the judicial system," he said.
CHRI calls for the immediate release of Zaghari-Ratcliffe, currently serving a five-year prison sentence, and all dual nationals imprisoned in Iran without due process.
Zaghari-Ratcliffe, denied a lawyer during the hearing, faced the judge with no attorney present, and was only allowed to speak to her lawyer by telephone immediately before the court session, according to a press release by the Free Nazanin Campaign issued on October 9, 2017. This is her second lawyer, as the first is currently being prosecuted for defending her. No date has been set for the trial.
Her family in Iran paid 30 million tomans (approximately $9,045 USD) bail to prevent Zaghari-Ratcliffe, recently diagnosed with severe depression, from being placed in solitary confinement in Evin Prison. The first 130 days of her imprisonment were spent in solitary confinement between Kamran Prison and later Evin Prison.
"It is not melodramatic to say what is happening to Nazanin is torture," said Zaghari-Ratcliffe's husband, Richard Ratcliffe, adding that his wife would be eligible for early release as of November 2017.
"The Iranian government needs to stand up for its citizens—it is what President Rouhani was elected for, to stop the abuse of Iranian citizens by the IRGC who are protecting only their own economic privileges," he added.
"The Iranian government's hiding behind judicial independence in the continuing unlawful detention of Nazanin Zaghari Ratcliffe is an outrageous evasion of legal and moral responsibility," Ghaemi said, "especially when the judiciary demonstrates no such independence from the Revolutionary Guards.