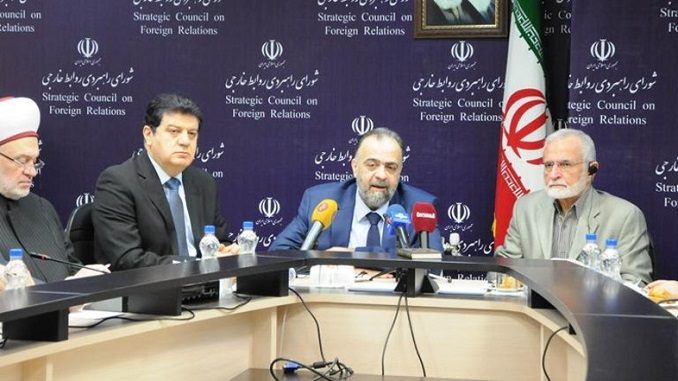 Tehran announced on Wednesday that they will be opening the 'College of Islamic Schools' in Damascus, approximately a month after announcing the opening of several branches of the Iran-based Islamic Azad University across Syrian cities, Al Arabiya reports.
According to the Iranian Tasnim news agency, the head of strategic council on foreign relations, Kamel Kharrazi, announced the opening of the college during a meeting with the Syrian Minister of Religious Affairs Mohammed Abdul Sattar. Kharrazi, who was also Iran's foreign minister until 2005, reaffirmed the need to hold forums for scholars of "different Islamic sects".
Abdul Sattar praised Iran's role in Syria, and their support of the Syrian regime, announcing the date of the opening of the college in the Syrian capital in cooperation with the World Assembly for the Reapproachment of Islamic Sects.
This comes after Ali Akbar Velayati, the head of Islamic Azad University board of founders, announced that the university will be opening branches across Syria, Lebanon and Iraq. Many saw the move as a soft power strategy by Tehran to promote their ideological and political agendas, in addition to heavy military involvement in these countries as well.
Damascus has given the green light to Iran's proposal to establish branches of the Islamic Azad University in Syria, Velayati.
"In a letter to [Syrian President] Bashar Assad, I announced that the Islamic Azad University is prepared to establish branches [in Syria] and he issued an order to establish branches of the Islamic Azad University in all Syrian cities," Velayati said, as quoted by the Persian-language E'temad Online website.
The Islamic Azad University is a private university system in Iran, and one of the largest comprehensive systems of universities, colleges, and community colleges in the world. Last year, the total number of enrolment in IAU branches was 1,620,000, which makes it the world's fifth-biggest universities in terms of enrolment.
Velayati said Iran not only helps neighboring and Islamic countries maintain their security but also denies them no assistance to help promote Islamic, native and regional culture and shares with them its accomplishments in the field of science and technology.
Velayati also said during a ceremony arranged in honor of Azad University officials that "friend and foe acknowledge that Iran is the most powerful, influential and authoritative regional country" and stressed that Iran contributes to the security maintenance of regional countries only because it will ensure greater regional security.