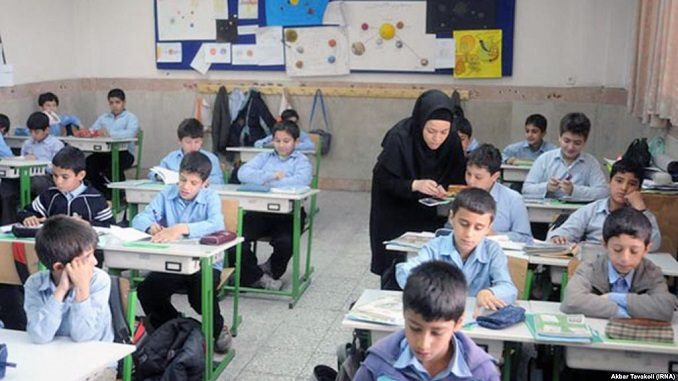 Iran just banned the teaching of English in primary schools – even after school hours – because, it said, those early years should be devoted to strengthening students' skills in the Persian language and Iranian Islamic culture after the regime's Islamic leaders warned that learning the language of America too early would trigger a "cultural invasion" of Western civilization, RFERL reports.
Mehdi Navid-Adham, chief of the High Education Council, told state-run TV on January 7 that "teaching English in government and nongovernment primary schools in the official curriculum is against laws and regulations" and would no longer be allowed by authorities.
"Teaching English in government and non-government primary schools in the official curriculum is against laws and regulations. This is because the assumption is that, in primary education, the groundwork for the Iranian culture of the students is laid," he said.
It was not immediately clear if the ban had been put into place. It is likely to most affect private schools that offer English instruction to younger students.
The teaching of English usually starts in Iran in middle school, at the ages of 12 to 14, but some primary schools below that age also have English classes. Some children also attend private language institutes after their school day, while children from more privileged families attending non-government schools receive English teaching.
English is widely studied in Iran and is so popular in higher grades that classes started to be offered in primary schools. This has happened despite concerns expressed by Iran's rulers, who have said that the teaching of English and other foreign languages amounts to a "cultural invasion."
The supreme leader, Ayatollah Ali Khamenei, who has the final say in all state matters, previously voiced his outrage and said in a speech to teachers in a speech to teachers in 2016.
"This insistence on promoting the English language in our country is an unhealthy course of action. Of course, we should learn foreign languages, but foreign languages are not confined to the English language. The language of science is not only English. Why do they not specify other languages in school as language lessons? Why is there such an insistence? That does not mean opposition to learning a foreign language, but [this is the] promotion of a foreign culture in the country and among children, young adults, and youths. The first thing that we should consider for our students is that we should engender an independent national and religious identity in them. This is the first thing: an independent and dignified identity. We should cultivate our youth in a way that they pursue independent politics, economy, and culture," Khamenei bemoaned the prevalence of English classes in Iranian schools, saying.
President Hassan Rouhani disagrees with him and has said that knowing English will help young people join the job market. But he had little power to stop the ban.
Navid-Adham also said on state-run media over the weekend that government authorities want to strengthen "Persian language skills and Iranian Islamic culture of pupils at the primary school stage," and that it would be a "violation" for primary schools to teach English not only during regular school hours but also outside of the daily classroom schedule.
It is unclear if the recent hostile comments directed at the English language relate to recent unrest in Iran.  A wave of anti-government protest demonstrations began on December 28 in Iran, exploding tensions between the Islamic republic's hardline government and its fed-up populace. Dozens of anti-government protests erupted across the country late December until a government crackdown led to at least 22 deaths and more than 1,000 arrests during the protests that spread to more than 80 cities and rural towns.
Young and working-class Iranians made up most of the protesters, which Tehran blamed on hostile foreign powers, including the U.S. and Israel. Tehran has moved swiftly to quell the most serious protests since 2009's "Green Movement," cutting off social media and mobilizing police and military forces to deal with the spreading demonstrations.
The current protests could have enormous significance for the future of Iran and are focused on a number of issues. One motivation for the protests is the institutionalized discrimination against Iran's ethnic minorities and the greater economic hardship in Iran's periphery.
President Donald Trump has voiced encouragement for the anti-government demonstrations. The U.S. called a UN meeting on Friday, portraying the protests as a human rights issue that could spill over into an international problem.
It was also not immediately clear if the ban had been put into place. It is likely to most affect private schools that offer English instruction to younger students. However, it is unlikely to stop families from pushing their children to learn English. Many middle-class families already take their kids to independent language institutions after school hours because the methods used to teach English at normal schools aren't very successful.
Other languages have also been targeted in Iran. In 2017, Iran's intelligence agency banned publication of a Kurdish-language instruction book, titled Reading and Writing Kurdish Kurmanji.