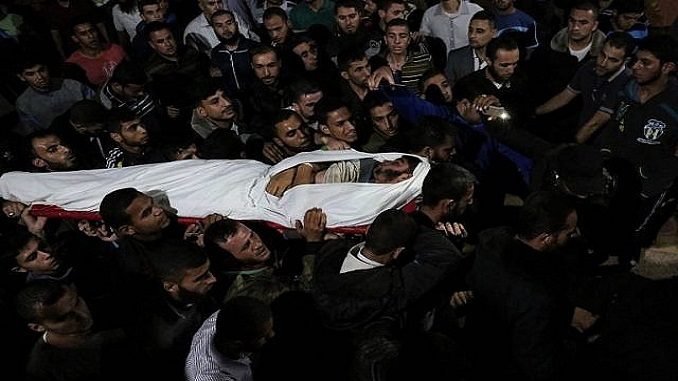 Iran on Monday condemned Israel as "bloodthirsty" after the Israel Defense Forces blew up an attack tunnel stretching from the Gaza Strip into Israeli territory, killing seven people, including two commanders of the Palestinian Islamic Jihad terror group.
"The bloodthirsty Zionist regime is trying to bend the will of the oppressed people of the occupied territories to guarantee its security by killing Palestinian youths. This is while seven decades of crimes, bloodshed, and child-killing could not weaken the determination of this patient and courageous people at all, " Foreign Ministry spokesperson Bahram Qassemi said, according to Tasnim news agency.
The IDF on Monday said it "neutralized a terror tunnel" that was discovered inside Israeli territory near the Gaza Strip and is believed to have been dug after 2014. The tunnel was being built by the Palestinian Islamic Jihad terror group.
At least five members of Islamic Jihad's military wing, including a senior commander and his deputy, and two members of Hamas's military wing died in rescue efforts and more than 12 others sustained injuries when Israeli fighter jets bombarded and destroyed a lifeline tunnel in the southern part of the besieged Gaza Strip.
According to the IDF, the destroyed tunnel began in the southern Gaza Strip town of Khan Yunis and continued into Israel, ending only 2 kilometers from the border community of Kissufim.
The IDF spokesman to the Arab press, Avichai Adraee, said that most of the dead "entered the tunnel after it was blown up" as they sought to rescue those trapped inside. The statement from Iran came days after a Hamas delegation visited Tehran and officials in the Iranian regime praised the Gaza rulers for not abandoning its armed struggle against Israel.
A top aide to Iranian supreme leader Ali Khamenei praised Hamas for not abandoning its armed struggle against Israel during the meeting with the terror group's visiting delegation in Tehran.
"We congratulate you for declaring that you will not set your weapons aside and for describing it as your red line," said international affairs adviser Ali Akbar Velayati, according to the semi-official Fars news agency.
Admiral Ali Shamkhani, Iran's secretary of the Supreme National Security Council, sent a similar message to the terror group, expressing hope that Hamas would continue to be a "central pioneer of the Palestinian resistance," according to Iran's Press TV.
The high-ranking Hamas delegation went to visit Iran to inform its backers in Tehran about reconciliation efforts with rival Palestinian faction Fatah, an official from the terror group told AFP.