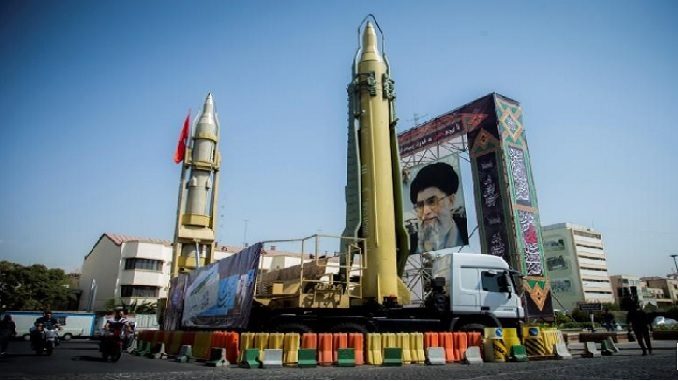 Iran will not negotiate over its ballistic missiles until the United States and Europe dismantle their nuclear weapons, a top Iranian military official said on Saturday, keeping up the Islamic republic's tough stance on the issue, Reuters reports. While Iran has accepted curbs on its nuclear work – which it says is for purely peaceful purposes – it has repeatedly refused to discuss its missile program, something the United States and the Europeans have called for.
"The condition for negotiating Iran's missiles is the destruction of the nuclear weapons and long-range missiles of the United States and Europe," Iranian Armed Forces spokesman Masoud Jazayeri was quoted by the state news agency IRNA as saying.
Iran says its nuclear program is defensive because of its deterrent nature, and that it is not related to Tehran's 2015 nuclear deal with world powers which led to the lifting of sanctions against the country. European powers and Iran have started talks over Tehran's role in the Middle East and will meet again this month in Italy as part of efforts to prove to U.S. President Donald Trump that they are meeting his concerns over the 2015 nuclear deal.
In a report on Thursday, CNBC once again reiterated the doubts that are surrounding efforts to reconcile European and American views on the Iran nuclear deal, as the signatories inched closer to the deadline set by U.S. President Donald Trump's ultimatum to either strengthen the deal or allow its collapse. On May 12, the White House will once again be required to waive the nuclear-related suspended under the Joint Comprehensive Plan of Action, but Trump announced in January that he would not do so unless perceived flaws in the agreement were fixed.
Three specific issues have been highlighted by the White House: the JCPOA's lack of restrictions on Iranian ballistic missile activities, its provisions allowing for constraints on the Iranian nuclear program to begin expiring after approximately 10 years, and the existing limitations on international inspectors' access to suspicious sites in Iran. There have been signs of progress in some of these areas, where negotiations between the U.S. and its European partners are concerned. This is particularly evident in the case of ballistic missiles, which Iran has been credibly accused of providing to Houthi rebels in Yemen, thus violating United Nations Security Council Resolutions.
Meanwhile, the Iranian propaganda network Press TV expressed a similar expectation that Europe would capitulate to American leadership. Consequently, it suggested that the Islamic Republic was "bracing for the aftermath" of Trump's deadline, and that it was undertaking a shift in focus for its foreign policy and trade strategies. The report quoted Mohammad Shariatmadari, Iran's Minister of Industry, Mining and Trade as saying the country still needed some 180 billion dollars' worth of foreign investment in order to stabilize its economy, but that it now planned to obtain this mostly from countries that are outside of the European Union and less subject to American influence.
Press TV speculated that Europe was "unlikely to stand up to the US," citing the various signs of willingness to incorporate at least some of Trump's demands into future policies regarding diplomatic and trade relations with the Islamic Republic. Tehran, categorically rejects any such alternations to the JCPOA. If U.S.-Europe negotiations are successful, they will likely result in one or more supplementary agreements that put Trump's standards into force but do not directly alter the JCPOA. This would effectively prevent Iran, Russia, and China from obstructing the changes, although it would not prevent Iran from canceling the agreement in response to agreements that it sees as undermining the 2015 nuclear deal.
It currently appears as if the Islamic Republic is putting considerable effort into mitigating the risk of financial penalties and lost business following the prospective renewal of U.S.-led sanctions. As well as shifting their efforts away from markets with close links to the US, Iranian authorities are also reportedly taking steps to partially insulate its existing and potential foreign partners against American enforcement measures.
Last week it was reported that the Iranian Central Bank had announced its intention to create a national cryptocurrency, a move that many observers compared to similar efforts by Venezuela, which aided in the evasion of U.S. sanctions. Then, on Thursday, it was reported in The Russophile that the same central bank was moving to bar foreign merchants from using the US dollar as a base currency when pursuing transactions with Iran.
These trends further encourage the perception that Tehran is setting the stage for its own exit from the nuclear agreement, and also that it is doing so in hopes that the U.S. will be left with less economic leverage over Iran's nuclear and missile programs.