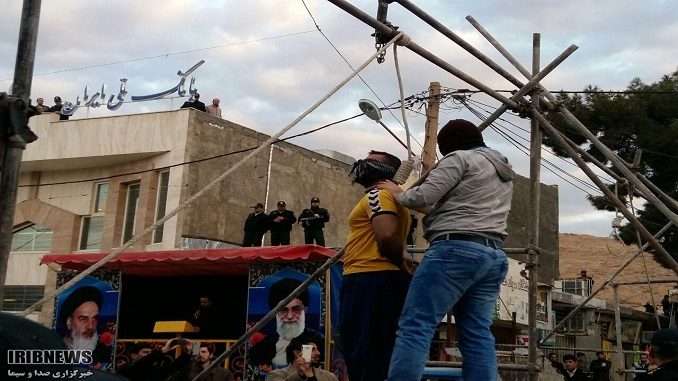 Iran has obviously no intention to give up on medieval punishments after the news broke of 13 prisoners that were executed on Wednesday, September 20 in Qom and Gohardasht prisons in Karaj, the central prison of Karaj, and the central prison of Qazvin, Track Persia reports. Also two public executions were carried out in the cities of Aq Qala and Pars Abad of Moghan.
The Iranian Human Rights Center and the Iranian resistance call on all international human rights authorities and organizations, in particular the High Commissioner for Human Rights, the Special Rapporteur on the situation of human rights in Iran, to condemn the clerical regime for arbitrary executions, torture and medieval punishments, such as hand amputation. They also call on the international community, especially the European Union and the United States, to sanction the mullahs' regime from committing these brutal punishments.
"The leaders of the barbarism ruling Iran, who are the disgrace for contemporary humanity, must be rejected from the family of nations and brought to justice,"the National Council of Resistance of Iran says.
Iran executed 33 prisoners only in the period of September 12 to September 20. On Sept. 21, they also amputated the hands of three prisoners on charges of robbery in Qom Prison. Between September 12 and September 19 , 20 other detainees, including a female prisoner, were executed in Khorramabad, Karaj, Ardebil, Tabriz, Mashhad, Borujerd, Zanjan and Kerman prisons.
Four of them were executed publicly in the cities of Islamabad Gharb, Anbarabad, Ilam and Salmas. Yadullah Movahhed, the head of regime's judiciary Kerman, called the five executed prisoners in the city "the cause for insecurity and wickedness."
Meanwhile, The Human Rights Activists Group (Hrana) reported that three Sunni Iranian political prisoners were undergoing a hunger strike due to being incarcerated along the mentally disabled in a special section of the prison of the city of Urmia, Al Arabiya reports.
The three Sunni prisoners in question, Anwar Khadri, Kamran Sheikha and Khashro Bashart, were transferred from Rajai Shahr prison in the city of Karaj, near Tehran, to the central prison in the northwestern city of Urmia.
According to Iranian sources, they were startled after being transferred to the mentally disabled prisoners' section. This section acted as an asylum and included prisoners incarcerated for crimes because of their mental disorders and were being treated during the length of their sentence.
After an unnoticed protest, these prisoners staged a hunger strike to force Urmia Prison authorities to transfer them out of the mentally-ill unit. All of the Sunni political prisoners, including Kharra, Sheikha, Bashart, Daoud Abdullahi, Farhad Selimi and Qasim Abstah, have been held in detention since December 2009.
An Iranian court sentenced these prisoners to death on charges of corruption, spreading propaganda against the regime, and working against Iranian national security. Local and international organizations have denounced the increasing number of executions in Iran as Tehran in the past three years won world record for most executions per capita just behind China.