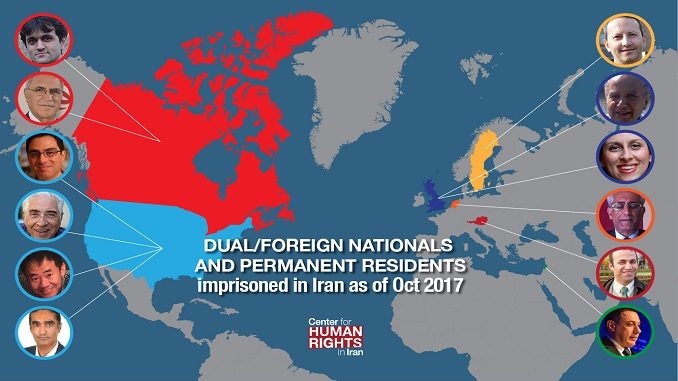 As history will prove, Iran's strategy to gain both funds and arms by keeping dual nationalities hostage is nothing new. According to Reuters, the number of dual nationalities arrested in Iran has increased since the signing of the Iran nuclear deal in 2015. Currently, there are some 30 dual nationalities detained in Iran, Al Arabiya writes.
As history will prove, Iran's strategy to gain both funds and arms by keeping dual nationalities hostage is nothing new. It started in 1979 when a group of 52 American embassy employees were held hostage for 444 days just after the Islamic revolution began. The result of which was the "Algiers Accord", where $7.9 billion of Iranian assets were unfrozen in addition to immunity from future lawsuits by United States.
The second most notable hostage crisis was when Hezbollah, the militants founded and funded by Iran in south Lebanon, kidnapped Americans and other foreign nationalities during the Lebanese civil war. Once again, the American administration under Reagan gave in to Iranian demands and the result became known as the Iran-Contra affair, in which during secret and illegal negotiations weapons were shipped to Iran in the height of Iran-Iraq war.
More recently, in January of 2016 under Obama $400 million were sent to Iran to release four American hostages – money that Obama administration refused to call a "ransom" but rather "settlement of a longstanding claim at the U.S.-Iran Claims Tribunal at The Hague," according to former State Department spokesman John Kirby.
Nazanin Zaghari Ratcliffe, an Iranian-British citizen, who was detained at Tehran's airport in April is the newest victim. She is sentenced to five years by the revolutionary court on "secret charges." Recently UK government announced that half a billion dollars will be transferred to Iran for a debt owed since the 1979.
In relation to concerns that this may be a ransom to free Zaghari, Theresa May's spokesperson told reporters, "we are clear we don't see any link between these two issues."
Whether it is a coincidence that whenever a dual citizen is held hostage in Iran, the West recalls the outstanding payments to Iran, or it is simply hostage and ransom situation that repeatedly rewarded Iran with money and arms in the past 4 decades, denial of both Iranian and western administrations that these instances are not pay offs however, is not convincing to the Iranian human right activists who believe this is a vicious circle that should be broken.
At least 12 dual and foreign nationals, as well as foreign permanent residents, are currently imprisoned in Iran. According to research by the Center for Human Rights in Iran (CHRI), the arrests, primarily by the Islamic Revolutionary Guards Corps (IRGC), are followed by a pattern of prolonged solitary confinement and interrogations; lack of due process; denial of consular access or visits by the UN or humanitarian organizations; secretive trials in which the detainee is given limited access to counsel; and long prison sentences based on vague or unspecified "national security" and "espionage" charges.
In November 2017, Reuters reported that at least 30 dual nationals had been arrested by the IRGC since the signing of the nuclear deal in July 2015. The judiciary's ongoing imprisonment of these visitors to Iran—arrested by the IRGC's Intelligence Organization or the Intelligence Ministry—reflects hardliners' efforts to prevent the engagement with the West that the administration of President Hassan Rouhani has sought to encourage. Dual nationals have also been used as bargaining chips in Iran's dealings with other nations.
President Rouhani discussed detainees in a September 2017 interview with CNN. He emphasized that the judiciary is independent and that his administration cannot interfere. But Rouhani seemed to imply that he has his own opinions.
"I do have my own sensitivities vis a vis this issue," he told Christiane Amanpour.
Iranian judicial officials have not been held accountable for denying due process to the detainees, nor for their collusion with the arresting authorities, which often influence or dictate prison sentences.