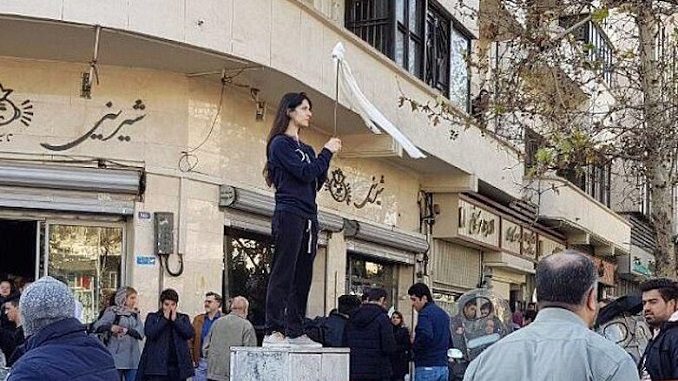 A woman who became a symbol during the country-wide protests in Iran for removing her hijab (headscarf) and waving it in the streets has been released from custody, an Iranian human rights lawyer said on Sunday, BBC reports.
The woman, identified as 31-year-old Vida Movahed with a 20-month-old daughter, was released after authorities arrested her for participating in the Iranian protests. Iranian human rights lawyer Nasrin Sotoudeh, who took on the case for the woman, nicknamed the "Girl of Enghelab Street," confirmed Movahed's release. According to Sotoudeh, during her visit on Sunday to follow-up with the case, she was informed by officials at the prosecutor's office that the woman had been released the previous day.
"The girl of the Enghelab Avenue has been released. I hope they don't fabricate a legal case to harm her for using her basic rights. She has not done anything wrong to deserve prosecution. Hands off her please," the lawyer wrote on Facebook.
Movahed was arrested on Dec. 27, the first day of anti-government protests in Iran. Social media users around the world used the hashtag "#WhereIsShe" to protest the 31-year-old's detention, as concerns about her whereabouts increased.
The hijabless woman received international fame as videos of her removing her headscarf and waving it on a stick went viral during the Iranian protests where at least 20 people were killed and hundreds arrested. Since the Islamic Revolution in 1979, women in Iran have been forced to cover their hair and dress modestly in public places. Those who violate Iran's Islamic legal code could face up to two months in prison, according to Sotoudeh.
Meanwhile, another woman was arrested on Monday in Tehran for removing her headscarf and waving it on a stick standing on a telecoms box in protest of the mandatory dress code in the country. She held up a white headscarf on a stick in a square in the capital where Vida Movahed, another anti-headscarf protester, was arrested. Pictures posted on social media showed the second woman, named as Narges Hosseini, wearing a green wristband, in an apparent reference to the 2009 Green movement whose leaders are still under house arrest.
The protest follows a similar action last month against the country's requirement that women cover themselves from head to toe in public. Pictures posted on social media on Monday showed at least three other women standing on top of telecoms boxes in Tehran in apparent solidarity with the women, including one near Ferdowsi Square.
Iran's most prominent human rights lawyer, Nasrin Sotoudeh, speaking to the Guardian on the phone from Tehran, said the second woman appeared on the same telecoms box at around 11 am local time on Monday for about 10 mins before being arrested by plainclothes officers. Two other people filming her were also arrested, she said. It was not clear if they remained detained on Monday evening.
Despite the fear of reprisals, millions of women in Iran defy the restrictions on a daily basis. A growing number of women, especially in Tehran, refuse to wear a hijab while driving, arguing that a car is a private space where they can dress more freely.
"I wear the chador. I chose to wear the hijab, it wasn't forced on me by my family or the society, nor it was a work requirement. I am happy with my choice but I am opposed to forced hijab and that's why I appreciate the Girls of Enghelab Street. Religion and hijab should not be compulsory," Zahra Safyari, an Iranian woman who voluntarily wears a hijab, tweeted.