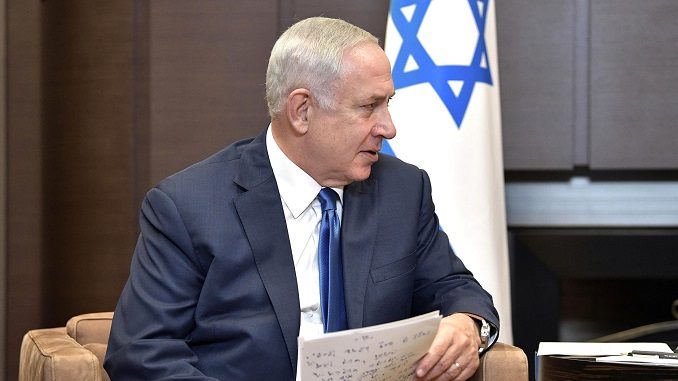 Israel Prime Minister Benjamin Netanyahu today accused Iran of actively involved in terrorism against his country. Netanyahu said that Iran is engaged in terror against Israel not only by assisting terrorist movements such as Hamas, Hezbollah, and Islamic Jihad but also in trying to organize terrorist activities inside Israel and citizens, The Jerusalem Poat reports.
"The General Security Service, with the assistance of the IDF, exposed and foiled a terrorist network in Judea and Samaria that operated under the auspices and on behalf of Iranian intelligence," Netanyahu said.
The Jewish nation's Prime Minister was reacting to the revelations that the Israeli Security Agency (Shin Bet) uncovered an Iranian backed terror network that originated in South Africa. Netanyahu noted that this is "not the first time this has happened".
"Iranians are trying in different ways to harm Israel. I am happy that the Shin Bet and our security forces are succeeding in thwarting them," he said.
Earlier on Monday, Netanyahu had in a video message rejected reports of his backhand role in recent protests in Iran. In a video posted on his Facebook page and translated into many languages, Netanyahu said Iranian President Hassan Rouhani's suggestion that Israel was involved was "not only false — it's laughable."
"Brave Iranians are pouring into the streets. They seek freedom. They seek justice. They seek the basic liberties that have been denied them for decades," he said.
Netanyahu has issued instructions to prevent ministers and officials from talking about the Iranian issue so that the Iranian regime would not exploit these statements to hide the real causes of the popular explosion and frighten Iranians by accusing them of implementing an "Israeli-U.S. conspiracy." However, he himself talked about these protests, stressing that "the brutal Iranian regime is spending tens of billions of dollars on spreading hatred. This money can be used to build schools and hospitals. It is no coincidence that parents are demonstrating in the streets. The regime is afraid of its people, and this is the reason why it arrests university graduates and why social networks are blocked."
"But I am convinced that fear will not prevail because the Iranians are intelligent and boastful. Today they risk everything for freedom," Netanyahu added.
The Israeli prime minister has advocated regime change in Iran, saying that if the Tehran government collapses, Israelis and Iranians will be "great friends." Ridiculing Tehran's claim that foreign players were behind the agitations, he praised the protesters who are seeking 'freedom and justice'.
"When this regime finally falls, and one day it will, Iranians and Israelis will be great friends once again. The accusation that Israel was involved in stirring Iranian protests are false and laughable. I wish the Iranian people success in their noble quest for freedom," the prime minister said.
Iranian President Hassan Rouhani had been blaming the U.S. and Israel for provoking demonstrations in the country.