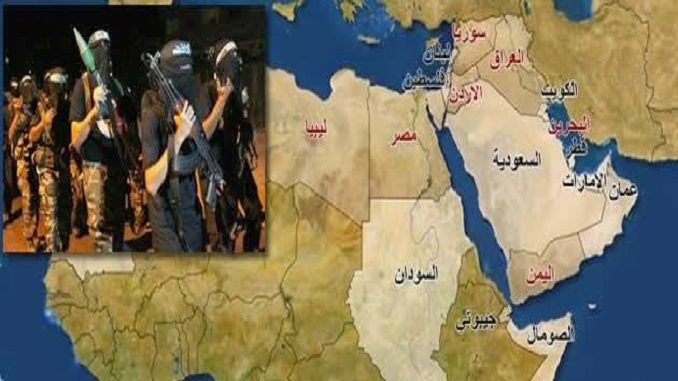 Although it was common knowledge for some time now, a ranking member of the Iranian Regime has confessed that they exported terrorism across the Middle East and Africa, Iran Focus reports. Mullah Kazem Sediqi, the Friday prayer leader in Tehran, said on September 22:
"We conducted a revolution in Iran, but today we are defending in Syria; today our reputation is heard all over Africa, an altar is set up in Nigeria."
He also confessed that the theocratic regime's soft occupation of Iraq has resulted in far-reaching influence over the fellow nation's political, military and security organs and praised Iran's use of terror cells like Hezbollah. Sediqi said:
"Today, is Iraq our neighbour? No, it's ourselves. Today, Iraq's Hashd al-Sha'bi and the Iraqi government are fighting alongside us. Lebanese Hezbollah is one of the miracles of our revolution … our Islam [read extremism and fundamentalism] goes to bring the world under the flag of the Velayat-e fagiqh (Supreme Leader)!"
However, it was not only Sediqi that saw fit to brag about the Iran's control over other countries. Hassan Rouhani, president of the Iranian Regime, said on the same day:
"Whether you want or not, we shall defend the oppressed people of Yemen, Syria and Palestine, and we will strengthen our military and defence capabilities to the extent necessary."
According to Ofoq television, Rauf Sheibani, a former Iranian ambassador to Syria, last week described the Iran's export of terrorism as "resistance". Sheibani said:
"The Basiji volunteers from all over the world have been rushing into Syria in order to confront the global campaign against the axis of resistance, and they needed a solid military organization. The role of Iran and our military commanders who served as advisers in Syria was to mobilize, lead and direct these volunteer forces … Several nationalities in the form of a military body, including Afghan, Iraqi, Pakistani, African, Hindi, and European."
It is hard to imagine how propping up the violent Bashar Assad dictatorship against the legitimate democratic opposition could be considered resistance, but then Iran is doing the same thing to their own people, so it is no wonder they see Assad as a kindred spirit. While on September 13, Mullah Ali Saeedi, the representative of Khamenei in the Revolutionary Guards, made a speech defending the regime's interference in the Middle East after public disgust became apparent. He said:
"Today, Iraq and Syria serve Islam. Sometimes we say what is our business regarding Palestine, Syria, Iraq and Lebanon… we have a responsibility in the world, and we are the one to create the ground for the globalization of Islam."
Last month, Mullah Ahmad Alam ol-Hoda, a member of the Assembly of Experts, Friday preacher and a representative of Khamenei in Mashhad, celebrated the Iran's takeover of other nation states.
"Today, it is not like the desert of Iraq, Syria and the Mediterranean Sea is a place outside this country and do not belong to it; Islam has been formed there," he said.
So, these high-ranking officials in the Iranian Republic have confessed that they seek control over the Middle East and that they will do whatever they need to achieve it; warmongering, terrorism, supporting dictators. This is why Iranian regime must be evicted from the Middle East before they can do more damage to the region and the world.