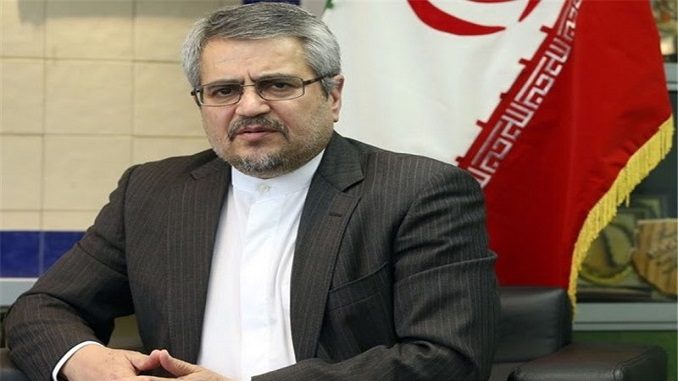 Iran's Ambassador to the United Nations Gholam Ali Khoshroo rejected as "baseless" U.S. claims that the Islamic Republic has supplied Yemen with missiles, saying the accusations are aimed at covering up the Saudi war crimes in Yemen with the U.S. complicity, Tasnim News reports.
In a statement issued on Thursday, Khoshroo denounced anti-Tehran remarks made by US Ambassador to the UN Nikki Haley earlier in the day as "irresponsible, provocative and destructive".
"These accusations seek also to cover up for the Saudi war crimes in Yemen, with the U.S. complicity, and divert international and regional attention from the stalemate war of aggression against the Yemenis… While stressing the Yemenis' right to self-defense, we reiterate that the crisis has no military solution. We take this opportunity to recall the peace plan that Iran formally presented to the UN Secretary-General in 2015 for peacefully settling the conflict and its readiness to contribute towards this goal," the Iranian diplomat noted.
During her press conference on Thursday, Haley appeared standing before parts of a ballistic missile that she claimed Iran delivered to Houthis in Yemen, who then fired it at the Riyadh airport in Saudi Arabia last month.
The Iranian Mission called Haley's remarks "baseless" and "categorically" rejected claims that Iran is in violation of the United Nations Security Council.
"Following a series of baseless accusations against the Islamic Republic of Iran in the past 10 months, the US Ambassador to the UN once again today took the same line accusing the Iranian government of supplying the missile that hit Saudi Arabia on 4 November — an accusation that we categorically reject as unfounded and, at the same time, irresponsible, provocative and destructive," a written statement from the Iranian mission said.
In a message on Twitter, Iranian Foreign Minister Mohammad Javad Zarif compared Haley's presentation to then-Secretary of State Colin L. Powell's 2003 allegations about Iraqi weapons of mass destruction, which were later found to be false.
"When I was based at the U.N., I saw this show and what it begat," Zarif said in a tweet, accompanied by side-side photos of Haley and Zarif.
Experts and some members of the international community also expressed doubts that Haley's "evidence" for Iran's connection to Houthi rebels in Yemen was as strong as she claimed. "Info I have is less clear," Olof Skoog, Sweden's ambassador to the U.N., said when asked about Haley's assertions.
Reza Marashi, research director for the National Iranian American Council (NIAC), pointed out that the U.N. report Haley cited as "devastating" proof against Iran has not even been completed, and thus cannot possibly amount to "irrefutable" evidence.
"As is the case with so many claims from the Trump administration, it appears that the facts are being chosen to fit a predetermined narrative or policy goal," Marashi concluded.
While Haley was vague about the ultimate implications of her case against Iran, many commentators argued that the dramatic presentation—which comes just a month before President Donald Trump is required to certify whether Iran is complying with the nuclear deal—indicates that the U.S. is slowly building up a rationale for war.
"Make no mistake: What Nikki Haley is doing right now is laying the groundwork for a U.S.-Iran war on behalf of Saudi Arabia," concluded Trita Parsi, president of the National Iranian American Council.
A spokesman for Yemen's Houthi group on Thursday dismissed U.S. accusations that Iran had supplied a missile fired at Saudi Arabia last month, saying it was an attempt to divert attention from the United States' decision to recognize Jerusalem as Israel's capital.
"After three years of war, America suddenly finds evidence that Iran supports the Houthis. America did not find any evidence in all the missiles fired from Yemen until now. The story is clear. They want to give Arabs a story to divert their attention from Jerusalem. Instead being angry at Israel, they wave the Iranian bogey," Abdel-Malek al-Ejri said in a message on his Twitter account.