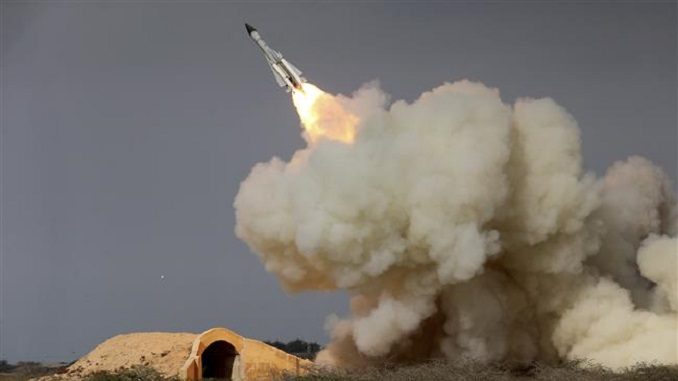 Iran says it will not permit other countries to undermine its defense might while they are themselves supplying regional countries with lethal weapons, Xinhua reports.
"The Islamic Republic "will never allow others to talk about or make efforts based on double standards to undermine the defense and deterrence power of the pacifist Iran. While [those countries] are expressing concerns about Iran's defense power, they are selling [arms] and equipping other regional countries with all types of ultra-advanced weapons," Foreign Ministry spokesman Bahram Qassemi said Thursday.
Qassemi's remarks came two days after French President Emmanuel Macron said Iran's ballistic missile program must be placed under international surveillance. Macron also claimed that the surveillance was "indispensable for the security of the region and so we need a mechanism of sanctions and control adapted to that."
Qassemi said Macron's remarks "are based on some kind of prejudice and an unrealistic view of the regional developments," adding that "such a biased approach will not help improve the situation."
"The Islamic Republic of Iran, with a logical and realistic approach and understanding of the current situation in Europe especially France … expects Europe to take more precise steps on the path of convergence and independence and to have a realistic understanding of the developments in the world and this sensitive region," he added.
Qassemi stressed that the Islamic Republic called for restoration and reinforcement of peace and security for its neighbors and for the sensitive and volatile Middle East region in general, saying that Iran has done what it takes in fighting security threats posed by terrorist groups.
The official further dismissed accusations that Iran's missile capabilities posed a threat to other countries, saying that the program was based on Iran's military doctrine of a defense and deterrent strategy.
"What is the real threat is the competition between the United States and some European countries to sell sophisticated and advanced weapons to certain regional states, which is a provocative move."
Iranian officials have repeatedly reiterated that the country's missile program is not negotiable in the face of a U.S. push to link it to a 2015 nuclear deal between Tehran and the P5+1 group of countries.
In separate remarks also on Thursday, Qassemi further chided Saudi Foreign Minister Adel al-Jubeir over his comments about Iran's role in Iraq, saying the Saudi diplomat "has forgotten that he cannot and should not speak for the Iraqi government and people."
Speaking on the sidelines of an international conference in Kuwait on Wednesday, Jubeir claimed that Iran's presence in Iraq was destructive and posed "a threat to Iraq and to its unity, stability, and security."
"Unfortunately, it seems that he [the Saudi foreign minister] has a habit of rambling and making unstudied and irresponsible comments. The Iraqi government and nation and other sharp-sighted and realistic states have consistently acknowledged Iran's determining, stabilizing and vital role in the fight against Takfiri terrorism in the region and Iraq and in restoring security to the country. Mr. Jubeir's allegations are too insignificant to warrant a response again," Qassemi said.