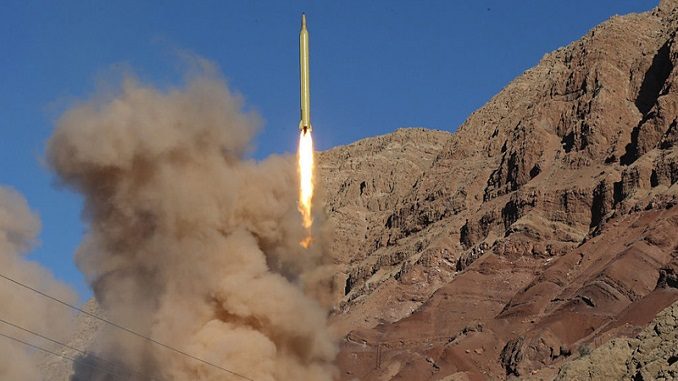 Iran has successfully test-fired a new long-range ballistic missile that can carry several warheads to hit multiple targets, local media reported. The test came hours after the locally-made missile was unveiled at a military parade in Tehran.
Footage aired by the Islamic Republic of Iran Broadcasting (IRIB) on Friday showed the missile launched from an unknown location. The video also featured telemetry camera footage from four different angles, purportedly showing the moment when the missile was discharged. The Khorramshahr missile is the third Iran has purchased, with a range of 2,000 kilometers, according to Mehr news agency.
"The 2,000-km-range missile can carry the warhead 1,800km away. The specification of this missile is that it can carry several warheads instead of one to hit several targets," the Commander of Iran's Islamic Revolution Guards Corps (IRGC), and Aerospace Force Brigadier General Amir Ali Hajizadeh told reporters.
The Khorramshahr missile, weighing more than a ton, has been manufactured in a smaller and more tactical size. It will be put into operation in the near future. The missile was unveiled in the presence of Iranian President Hassan Rouhani during a military parade in Tehran, marking the 36th anniversary of the Iran-Iraq war.
Rouhani addressed Friday's parade in Tehran, noting that Tehran would not halt its missile program and would continue to boost military capabilities, despite US threats to scrap the landmark 2015 agreement that capped Iran's nuclear activities in return for the lifting of international sanctions on Iran.
"We will strengthen our defense and military capabilities … whether you want it or not," Rouhani stressed.
Rouhani warned Wednesday that his country will "respond decisively" to any violation of the agreement and called President Donald Trump's "ignorant, absurd and hateful rhetoric" about Iran unfit for the United Nations.
"It will be a great pity if this agreement were to be destroyed by rogue newcomers to the world of politics," the Iranian leader told the UN General Assembly.
Iran's missile launch in turn earned further anger from President Trump who not only accused Tehran of supporting North Korea but stressed his disapproval of who the missile could target.
"Iran just test-fired a Ballistic Missile capable of reaching Israel.They are also working with North Korea.Not much of an agreement we have!" he wrote on Twitter.
Trump's words also cast growing uncertainty over whether a nuclear deal clinched with Iran would survive following the launch. Robert Einhorn, a former nuclear and policy adviser of Barack Obama told Newsweek​ the message in Saturday's launch was loud and clear.
"Iran's public display of the missile and Rouhani's comments were largely a response to the Trump administration's declared intention to pressure Tehran to accept limitations on its ballistic missile programs. Rouhani is putting down a strong marker that Iran's missile programs are not on the negotiating table," he said.
The UN watchdog monitoring Iran's nuclear activities confirmed earlier this month that the country is fully in compliance with its 2015 nuclear agreement with world powers.
"Iran has conducted its enrichment activities in line with its long-term enrichment and R&D enrichment plan," agreed with world powers, according to the six-page confidential document, seen by several news agencies, including Iran's IRNA.
Iran is also not conducting "any uranium enrichment or related research and development activities" at its Fordo nuclear plant, the International Atomic Energy Agency (IAEA) added, as cited by AFP.
Tehran is not pursuing construction of its existing heavy water research reactor and has not enriched uranium above the agreed 3.67-percent limit, the report concluded, adding that Iran's stockpile of low-enriched uranium (which can be used for peaceful purposes unless further processed for a nuclear weapon) was 101.7kg – considerably lower than the agreed level of 300kg.